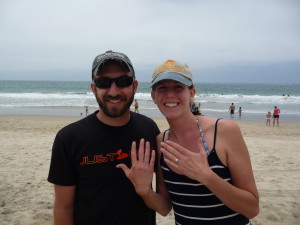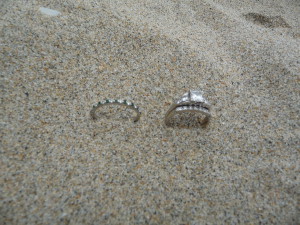 I was down in Newport Beach to try to find someone's ring they had lost a week ago, but the beach was too crowded to metal detect, so I decided to head home. On the way back, I received a call from Travis, who told me my name was given him by Stan Ross (a local Ring Finder), and that I might be able to help he and his wife Corinne. It just so happened, that at the moment of the call I was at the very street Travis was calling from (providential). Corinne had been applying sunscreen, and took off her wedding ring which they explained to me was a family heirloom, and mother's ring, and put them in her lap. She then decided to put some sunscreen on her husband who was closer to the water, and got up to go over to him not realizing that the rings were still on her lap. Before she realized what had happened it was too late; they were gone. Travis went to the store, and got a flour sifter to try and find the rings, yet was unsuccessful, even though he knew the rings were in the general area. When I got to the site, and asked a few questions, I was able to figure out where the rings were most likely to be, yet conducted a grid search in order to be thorough. Within minutes I had the first ring in my fingers, and looking at Corinne, who was a bit distracted at the time by someone who had walked up, I said, it sure is a pretty ring. She looked at me with a surprised look, and then realized I was holding her wedding ring, another scoop, and we had the mother's ring. What a happy recovery. What a great day!
Corinne sent me the following email, wanting to share her experience as to what this recovery meant to her :
When I realized that the rings that were once in my lap were now somewhere in the sand, my heart sank. I panicked. I cried. I yelled at my husband "don't move!". But moving wouldn't have mattered, because they were already below the surface of the sand.
An incredible wave of sadness came over me and the next few hours were a blur.
After searching by hand, toy sifter (borrowed from a fellow beach-goer), and an hour or so of my awesome husband sifting through sand with a strainer bought at the liquor store across the street, I began to give up. I had been keeping my eye out for any person on the beach with a metal detector, but no luck.
Then I thought to look up and call anyone with access to a metal detector in the area. Through a series of phone calls (from very nice and helpful people!) we got in touch with Steve, who just happened to be down the street. We couldn't believe our luck!
Two false-alarm soda cans and a few minutes later, I soon I heard the most beautiful sound- my ring clanking around in Steve's metal basket! I couldn't believe the weight that was lifted. Another scoop and my other ring was also found! Tears of joy immediately poured down my face and shrieks of "oh my gosh" filled the air. Steve was my HERO!
The engagement ring and wedding band are from diamonds that have been in our the family for over 100 years. My grandpa was given the stones from his mother, which he used to make this wedding set for my grandma. When my husband and I got married in 2006, it was passed on to us.
The other ring was from my husband, given to me when our son turned 4 months old and I went back to work. The ring has his birthstone in it, so that I could feel close to him, even while at work.
We are so grateful that Steve was available and so close by! I personally think it was a little more than luck that brought him to us today. I thank him and all the other ring finders out there- what an incredible gift to give someone!
If you lose your ring or other metal item of value, don't buy a metal detector or rent a metal detector, but call one of the members of this directory. Look at the different metal detecting Ring Finder blogs and read their success stories, then call them ASAP, and they will work hard for you to find what you thought might never be found again.
I search, Cabrillo Beach, Hermosa Beach, Huntington Beach, Long Beach, Malibu, Manhattan Beach, Newport Beach, Redondo Beach, Santa Monica, Seal Beach, Torrance Beach, Venice Beach, and all parks, yards, gardens, and ponds (to 5 foot depths) in Orange County and Los Angeles County.
2 Responses to "Rings Lost in Newport Beach, CA…Found"