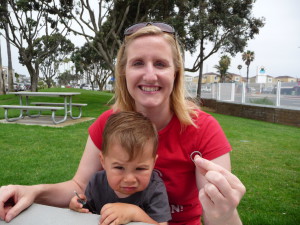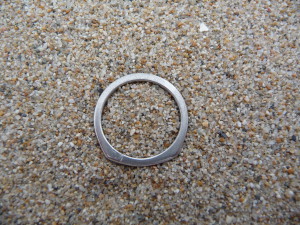 I received a call last night from Nicole who told me that she had lost her wedding ring on Saturday two days before, in Newport Beach. When she described what had happened, it was an almost identical story to the one right below this one, same beach (only about 1/4 mile away), happened the same way (taking rings off to put on sunscreen), on the same day. They both even have a very young child. Nicole detailed the whole incident to me, even having her husband measure distances on Google Earth while we were talking. Though the ring had been gone for two days, with many hours of searching from Nicole, her husband, and friends, without finding the ring, I felt by the area she told me it was in, that there was a good chance the beach cleaners, or other metal detectorists had not been there. After getting all of the information I could garner, I asked if she would be able to meet me at the spot first thing in the morning, and she replied that it would not be possible, because she lived in San Diego ( about 90 miles away), so I told her I would go there first thing in the morning. After hanging up the phone (about 9:00 PM), I felt like going to look right away, so I put everything in the truck, and took off for an hour drive. I got there about 10:00 PM, and started my search. What a pleasant search, the only sound was the threshold sound in the headphones with the occasional tone letting me know there was something below, a few coins here and there, and then about 30 minutes into the search I got a good signal, and when I brought up my scoop and turned my headlight on, I saw what looked to be a mechanical washer, but Nicole had given me one special thing to look for and that was the fact that the ring was flat on the bottom. When I pulled the ring out of the scoop and saw it's shape I knew I had scored a victory, and called them immediately, about 1 1/2 hours after the initial phone call. Nicole met me the next day and happily received her ring. She told me she was referred to me by Stan Ross (fellow Ring Finder). So the ring's story will continue. Another great day!
If you lose your ring or other metal item of value, don't buy a metal detector or rent a metal detector, but call one of the members of this directory. Look at the different metal detecting Ring Finder blogs and read their success stories, then call them ASAP, and they will work hard for you to find what you thought might never be found again.
I search, Cabrillo Beach, Hermosa Beach, Huntington Beach, Long Beach, Malibu, Manhattan Beach, Newport Beach, Redondo Beach, Santa Monica, Seal Beach, Torrance Beach, Venice Beach, and all parks, yards, gardens, and ponds (to 5 foot depths) in Orange County and Los Angeles County.
4 Responses to "Platinum Ring Lost in Newport Beach, CA…Found"