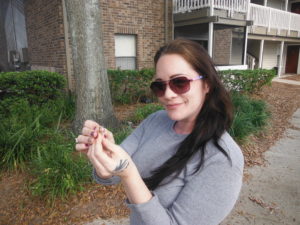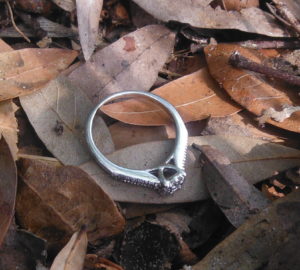 Jason called Thursday morning to see if I could help him find his wife's lost engagement ring in some bushes at their apartment complex in Orlando! I asked a few pertinent questions to help determine where the rings might be hiding and if there was a good chance they could be found. Jason briefly explained what happened and mentioned that Amber, his wife, had actually lost both her wedding and engagement rings. And after a frantic search they were able to find the wedding ring but not the lost engagement ring! He went on to say that they contemplated renting a metal detector but then found theringfinders.com web site and decided to give me a call.
I reassured them that I would get there ASAP and that the chances were very good of finding her lost ring.
The actual area where the rings landed was small but full of various types of bushes, shrubs and decorative grassy types of plants. One of the grounds crew had actually used a leaf blower to try and remove some of the loose mulch to expose the lost ring, but may have actually blown the ring deeper into one of the bushes. I began my search along the sidewalk and investigated every possible signal using my Garrett pro pointer. I uncovered a variety of items and only 10 minutes into my search I got a great pull tab signal and brushing the leaves aside–there was Amber's lost ring. I called the young couple over to see what I had found and it was a thrill to see their reactions and the smiles on their faces as Amber bent over and picked up her precious ring! It is always a great pleasure helping reunite a lost ring with it's rightful owner!
Lost your ring? Call ASAP!
Mike McInroe Proud member of TRF!!