Brian Rudolph, Lost Item Recovery Specialist (Land, Water, Sand, Snow, Leaves, Cliffs, Houses & Vehicles) Will Find Your Lost Keepsake! Call ASAP (301) 466-8644!
Russ lost his white gold custom-made filigree style wedding band that he wore on his finger for 4 years since the time he got married. The ring matched his wife's band. He wasn't sure where he lost it but it did come off of his finger somewhere in the house or possibly flew off his hand out on his deck while feeding the birds.
Russ was very upset about losing his beloved keepsake. He looked online and found the elite international directory of metal detectorists called THE RING FINDERS. That's when he gave me a call and I assured the gentleman that I would do everything I could to recover his lost property.
Because there was too much to look through in Russ's Ashburn, Virginia townhouse, my client and I felt that the only areas that I could search would be the second floor back deck and the lawn below. We eliminated Russ's truck and front lawn from being possible suspected areas.
The next morning after being contacted, I headed to Russ's property and he took me on a tour of the deck (showing me where he threw old Chex cereal for the birds) and out on his lawn. After scanning the deck just to see if the ring may have fallen somewhere on the wood flooring, I then turned on my detector and started searching the lawn below.
Within a few minutes, I successfully detected Russ's extremely handsome custom-made filigree style 14 karat white gold wedding band! It was hidden in the grass approximately 25 feet away from the house. Russ could not have been more excited and his wife Alene was certainly relieved as well!
Russ was extremely happy that he contacted a professional metal detectorist on THE RING FINDERS website! Having his ring back on his finger meant the world to the couple and they were tremendously grateful for my work. Russ and I thanked the Lord following the recovery of the band. We gave God the glory for helping me to be able to help my new found friends, Russ and Alene!
SUBSCRIBE TO BRIAN'S YOUTUBE CHANNEL TO VIEW THIS SEARCH VIDEO!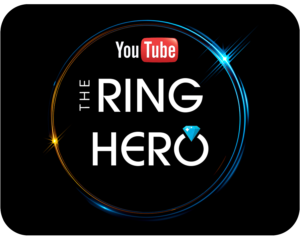 To receive a NOTIFICATION letting you know when the video is uploaded to YOUTUBE: go to YOUTUBE by CLICKING THE LINK BELOW or OPEN your YOUTUBE APP on your device, go to the SEARCH BAR, type: THE RING HERO, click SUBSCRIBE and lastly, CLICK ON THE "BELL" to receive NOTIFICATIONS when this latest search video is available to view! 
BRIAN'S YOUTUBE CHANNEL LINK: 
https://www.youtube.com/channel/UCmcn09QqWhHrj-7SGqlUBJQ
CALL BRIAN RUDOLPH WITH THE RING FINDERS AT (301) 466-8644!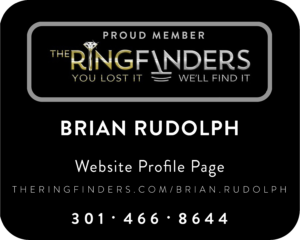 VISIT THE RING FINDER'S WEBSITE TO READ MORE OF BRIAN'S SUCCESSFUL SEARCH STORIES at:
TheRingFinders.com/Brian.Rudolph/
HE WILL RETURN TO YOU WHAT HAS BEEN LOST!
VISIT BRIAN'S BUSINESS WEBSITE FOR ADDITIONAL SERVICES, STORIES AND INFORMATION AT: www.MetalDetectingAdventures.net