Brian Rudolph, Lost Item Recovery Specialist (Land, Water, Sand, Snow, Leaves, Cliffs, Houses & Vehicles) Will Find Your Lost Keepsake! Call ASAP (301) 466-8644!
Pam was crying on the other end of the phone with me when she called for help. Her elegant 18 karat yellow gold and multiple diamond mesh-style anniversary ring went missing after the Rockville, Maryland resident had spent a few hours that day doing some outdoor weeding and leaf collecting.
Pam was absolutely devastated. This irreplaceable sentimental keepsake was given to her by her late husband Leo who had just passed away six months earlier due to COVID-19. The woman had been suffering enough pain with the loss of her beloved spouse and then this unfortunate situation occurred. It was more than Pam could bear!
When I received Pam's distress call for help, I was at another search. Because of her emotional state, I called her frequently to give my future client updates as to how long I might be before getting to her property. She really appreciated the extra effort that I went to in order to bring reassurance to Pam that she would not be forgotten that night.
When I arrived at my client's Rockville, Maryland property later in the evening, Pam immediately showed me where she had been raking and bagging up leaves along with a couple of other spots where she had been weeding and dumping the cuttings into additional lawn and leaf paper biodegradable brown bags.
Once I got my metal detecting gear from my car, I powered up the equipment and began searching for the lost ring. First, I metal detected parts of the lawn where the weeds were pulled from the ground. Nothing registered on my machine in those areas. Then, I took one of the brown paper biodegradable recyclable bags that had lots of trimmings and weeds tucked inside of it and laid it on its side along the ground near the curb. I swung my metal detector coil over the bag and no metal could be detected. I then rolled the paper receptacle on its other end and once again scanned its contents. This time however I immediately got a signal!
Slowly and carefully I began to take some of the contents out of the brown container until my metal detector hit the same target signal that I had previously encountered. Within a quick minute or so I pinpointed the object that I had been hunting all along. Below a few weeds I found what I had been searching for!!!! There it was! I recovered it! The object was indeed Pam's beautiful and most elegant yellow gold mesh-style ring that consisted of diamonds set around the equator of that very special anniversary jewel!
Pam was right beside me when I identified her irreplaceable keepsake that Leo, the love of her life, had given to her so many years earlier! She began to cry with tears of joy and with much relief in her heart when I handed her the ring. During all of those hours of waiting for me to arrive, Pam felt like another part of Leo had been stripped away from her. Thankfully, at that moment, she was then reunited with that very special gift that Leo had given her so very long ago. Yes, the memories in that treasure piece would forever be preserved now that I had recovered the ring from what would have been picked up by the recycler truck the following day! I was greatly satisfied that night to be able to help turn tears of distress into tears of happiness!
SUBSCRIBE TO BRIAN'S YOUTUBE CHANNEL TO VIEW THIS SEARCH VIDEO!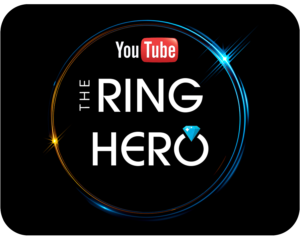 To receive a NOTIFICATION letting you know when the video is uploaded to YOUTUBE: go to YOUTUBE by CLICKING THE LINK BELOW or OPEN your YOUTUBE APP on your device, go to the SEARCH BAR, type: THE RING HERO, click SUBSCRIBE and lastly, CLICK ON THE "BELL" to receive NOTIFICATIONS when this latest search video is available to view! 
BRIAN'S YOUTUBE CHANNEL LINK: 
https://www.youtube.com/channel/UCmcn09QqWhHrj-7SGqlUBJQ
CALL BRIAN RUDOLPH WITH THE RING FINDERS AT (301) 466-8644!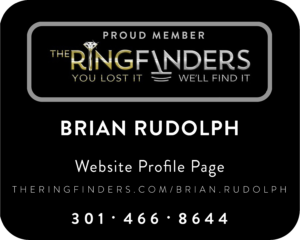 VISIT THE RING FINDER'S WEBSITE TO READ MORE OF BRIAN'S SUCCESSFUL SEARCH STORIES at:
TheRingFinders.com/Brian.Rudolph/
HE WILL RETURN TO YOU WHAT HAS BEEN LOST!
VISIT BRIAN'S BUSINESS WEBSITE FOR ADDITIONAL SERVICES, STORIES AND INFORMATION AT: www.MetalDetectingAdventures.net