Last week I received a call from a young women who believed she lost a mourning ring while walking to work. Yes a Mourning Ring, not morning ring. I must admit I had never heard of one. For those of you who have never heard of a Mourning Ring let me explain.
This Mourning ring was made in the 1890's in England. It was made from 15K gold, not 14K gold, and was custom made with a lock of hair encased in the setting. The current owner is attempting to research for whom the ring was made and who is the deceased person that that person was in mourning for. It has small pearls boarding a stone under which is held a locket of hair. It also has a number of hallmarks on the inside of the ring. It has the initials of the deceased. If I find out more, I will update this post.
After searching the walkways for about 1/2 mile with detector and rake, we discovered the ring on the sidewalk. Since the area sidewalks had been searched several times, it is my opinion that while raking productive sounding targets, I flipped the ring out onto the center of the sidewalk. We discovered it while walking back to the original starting place. Needless to say, the owner who had purchased the ring recently, was delighted to be reunited with it.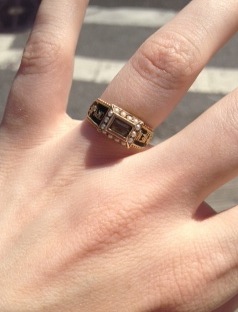 The ring has a number of Hallmark markings.