Blayne & his Wife were vacationing with extended Family at the lovely rustic Colin S Farmer Cottages in Perth, Ontario. The cottages are located on the south west end of Otty Lake.
Blayne was swimming between the land dock and floating dock and noticed his 10k white gold wedding band was missing. He searched for 20 minutes but it was getting dark. The next day Blayne, his Wife and her Family took turns searching for 4-5 hours with no luck.
The cottages owner Kyla had seen a recent Facebook post on the Otty Lake Association page that I was heading down to Otty Lake to search for another recently lost wedding band and a pair of expensive reading glasses. Kyla reached out to me for more information. She contacted Blayne about my services and he was in touch with me immediately!
I was lucky enough to group all three searches together in one day and have three successful recoveries!
I geared up with my Minelab Excalibur2 underwater metal detector and my DIVE BLU3 NEMO portable battery operating hookah system! Blayne provided a Google Earth image and circled the area he thought his lost his wedding band. I went out from land to the dock. I came back around searching in and out of the weeds. I had a few signals finding a pop can pull tab, a stainless steal nut, a lead sinker, swim mask and then the golden tone of the day… Blayne's wedding band!! WHAHOOOO!
Check out the video;
I contacted Blayne with a surprise phone call to give him the news. He was so happy of the news! I subsequently met up with his best man Andrew! Small world… Andrew and I both work for The City of Brampton! He for Transit and I for Works & Transportation. Andrew was thrilled to received Blayne's wedding band for the return!!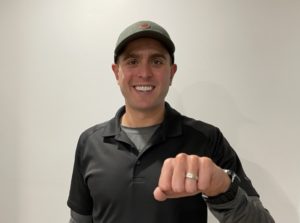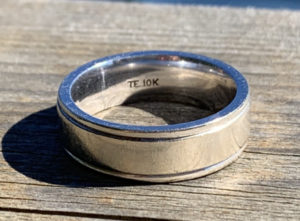 I can't thank Blayne enough for his very generous donation to the Kelly Shires Breast Cancer Foundation!! He recieves a tax receipt!
I also am grateful to Kyla & her Husband at Colin S Farmer Cottages for connecting me and giving us permission and also Patti Hamilton another cottage owner for posting on the Otty Lake Association page to help others while I was in the area if needed!! It was worth the four hour drive!
Otty Lake – ZERO
TheRingFinder – THREE
#OttyLake #perth #perthontario #ontarioringfinders #pinkpowerally
#treasurehunter #divedetectorist
#diveblu3 #blu3nemo #payingitforward
#breastcancer #fundraising