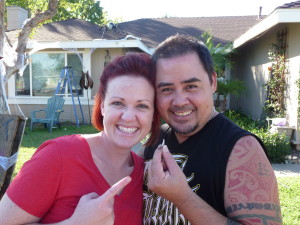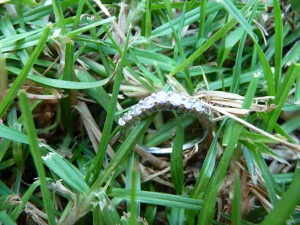 We had just landed at LAX coming from Waco, TX last Sunday, when I turned my phone off of "airplane mode", and realized I had just received a call from Mana regarding the loss of his wife's wedding band. I immediately called back to see what I could do to help out. We were not able to meet up that day but arranged to meet the next day, so I could help them find what had eluded them for a couple of days.
When we talked Mana explained that they were decorating their front yard for Halloween, and in the process his wife lost her ring in the yard. I showed up at our arranged time, and Mana showed me where the loss had presumably taken place. His wife was painting some of the props for the display, and took her ring off so it would not get paint on it. She gave her ring to Mana to hold, at which time he was sitting near her so he placed it on his shorts "so as not to lose it". When they were done though He stood up forgetting the ring was there and it fell off into the grass. The grass was not too thick, so I thought it was surprising it wasn't visible to them. I searched the area, and found some items that were too deep to have been lost in a couple of days, and did not dig for them. I then moved a bit towards the area Mana would have moved when he arose, and got a good hit. I pulled out my pinpointer, and searched. I was surprised that although I was right over the ring with my pinpointer, I could not see the ring. It had become hidden very flat under the grass, and without detecting equipment probably would not have been found.
When I raised my hand with the ring in it, Mana exclaimed jokingly "you save me", and I could tell by the joy he was showing that I had made his day. He showed his wife, and there were a lot of smiles to go around that yard on Monday. I was very happy to have returned a ring that was thought to have been lost for good.
If you lose your ring or other metal item of value, don't buy a metal detector or rent a metal detector, but call one of the members of this directory. Look at the different metal detecting Ring Finder blogs and read their success stories, then call them ASAP, and they will work hard for you to find what you thought might never be found again.
I search, Cabrillo Beach, Hermosa Beach, Huntington Beach, Long Beach, Malibu, Manhattan Beach, Newport Beach, Redondo Beach, Santa Monica, Seal Beach, Torrance Beach, Venice Beach, and all parks, yards, gardens, and ponds (to 5 foot depths) in Orange County and Los Angeles County.