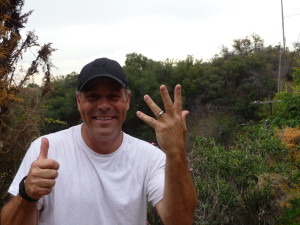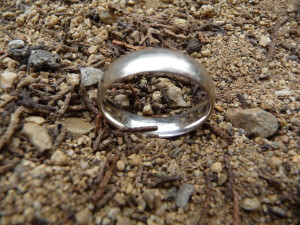 I received a text from Jason this morning about a ring he had lost on the hillside behind his house two weeks ago. He wondered if I would come out and look for it. I called as soon as I read the text, and discussed the situation with him. I figured if it was lost in his backyard, it hadn't moved very far, and the odds of finding it were good, so I told him I would be there as quickly as possible.
When I got to his house, Jason met me, and took me to the location of the loss. It was a very steep hillside with a very sandy soil that would swallow a ring almost as quick as beach sand. I could see that there was a lot of sand that had been moved, which was down further on the slope. I figured the ring probably had slid down the slope with the sand movement while he was looking for it, so I began my search in the lowest part of the sand pile. Jason told me that he had spent hours searching the hillside, which explained how so much sand had been moved down the hill. I did not receive the signal I was looking for so I started moving back up the hill towards the original area of the loss. When I got to the area he showed me where he knew the ring came off, I heard the tone I was looking for, and pulled out my pin pointer to narrow down the search. With a little movement of the sand I saw Jason's ring. He happened to be in another area of the hill when I found it, so I called to him to show him that I had found it. He came over relieved, and amazed that it was still in the same area he had lost it in. It was certainly wonderful to have made his day, because he had only been married a little more than a year, so this was a great loss to him and his wife; a lot of happiness was spread around today!
If you lose your ring or other metal item of value, don't buy a metal detector or rent a metal detector, but call one of the members of this directory. Look at the different metal detecting Ring Finder blogs and read their success stories, then call them ASAP, and they will work hard for you to find what you thought might never be found again.
I search, Cabrillo Beach, Hermosa Beach, Huntington Beach, Long Beach, Malibu, Manhattan Beach, Newport Beach, Redondo Beach, Santa Monica, Seal Beach, Torrance Beach, Venice Beach, and all parks, yards, gardens, and ponds (to 5 foot depths) in Orange County and Los Angeles County.