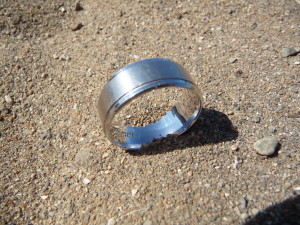 I received a call from Justin at about 8:30 PM regarding his friend's ring which was lost playing volley ball at a local beach. I was able to return the call about 10:30 PM because of previous commitments, and told him I could help them. He did not want to go back to the beach at that hour, and wasn't sure if he wanted me to look without them being there. I then said he should come here and read about my many recoveries, and decide if he wanted to entrust me with the search. I received a call back about 5 to 10 minutes later with the go ahead.
I got to the area, and searched with no success, I then did a cross grid, again with no success. It was then I decided to go to the other side of the court, in the direction of his friend's hit, and found the ring, it was now about 12:15 AM. I called Justin and woke him up to let him know that the search was a success, and we arranged to meet the next day. When we met, I was able to give his friend's ring back to him, but he was a bit camera shy, so he did not want his picture taken which I respected. needless to say he was very happy, and had a big smile when he received his ring.
If you lose your ring or other metal item of value, don't buy a metal detector or rent a metal detector, but call one of the members of this directory. Look at the different metal detecting Ring Finder blogs and read their success stories, then call them ASAP, and they will work hard for you to find what you thought might never be found again.
I search, Cabrillo Beach, Hermosa Beach, Huntington Beach, Long Beach, Malibu, Manhattan Beach, Newport Beach, Redondo Beach, Santa Monica, Seal Beach, Torrance Beach, Venice Beach, and all parks, yards, gardens, and ponds (to 5 foot depths) in Orange County and Los Angeles County.