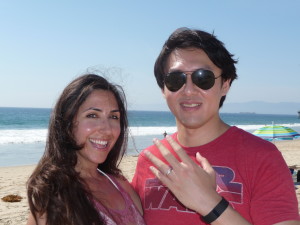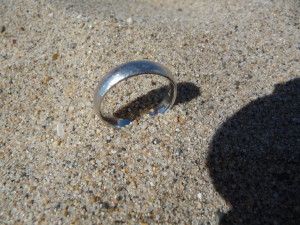 I received a call this afternoon from Elizabeth asking if I would be able to come and look for her husband's wedding ring. I told her I was available and could be there in approximately 30 minutes. When I got there I began my questions for Elizabeth and her husband Ken to narrow down the search, and focus my time in the right area.
They told me that Ken had just exited the water, so it could have been lost there, also that he had taken and shaken out his towel and thought he felt something hit his hand in the process, thinking the ring might have come off then. The second scenario sounded like the easiest to begin with, so I decided to start where Ken shook his towel. I wanted to get this area out of the way before I headed for the water. Elizabeth told me that Ken had been right where she was standing, so I asked her to move so I could begin at that spot.
Let's see, after three swings of the detector, and two scoops of sand, I was able to hand Elizabeth her husband's wedding band, about 45 seconds later. They did so many things right, which enabled me to help them in such a short time. They stayed in the area of the loss. They marked the area. They called someone right away, not waiting until the next day or the next week, in which time the county beach cleaning machines or other metal detectorists could have picked up the ring and taken it for good. Then the two told me that they had only been married since June 2015 (that's just two months!), how awesome, that ring meant so much to these two, that was THE ring. Could it be replaced, sure, but it wouldn't be that one. I was so glad to be able to continue the ring's story for these newlyweds, and to assemble more smiles for this directory; what a great day!
If you lose your ring or other metal item of value, don't buy a metal detector or rent a metal detector, but call one of the members of this directory. Look at the different metal detecting Ring Finder blogs and read their success stories, then call them ASAP, and they will work hard for you to find what you thought might never be found again.
I search, Cabrillo Beach, Hermosa Beach, Huntington Beach, Long Beach, Malibu, Manhattan Beach, Newport Beach, Redondo Beach, Santa Monica, Seal Beach, Torrance Beach, Venice Beach, and all parks, yards, gardens, and ponds (to 5 foot depths) in Orange County and Los Angeles County.
One Response to "Lost Platinum Wedding Band at Manhattan Beach, CA…Found."