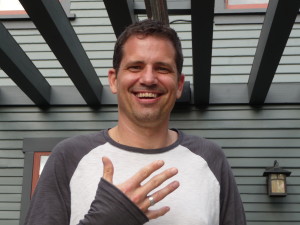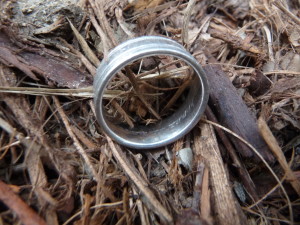 I got a call this evening from Shannon wondering if I would be available to find a ring for her boss Dave. I said I could leave as soon as possible. She would get back to me to arrange a time to meet him at his house. When she called back I knew I had to leave right away because of traffic, if I was to get there in a reasonable amount of time.
Dave was getting some professional yard renewal done which caused there to be mulch scattered into his swimming pool. He was going to swim a few laps, but wanted to clear out some of the floating debris, so he started scooping the mulch into his hands and throwing it back into the garden. It was then when he felt his ring come off in the direction he was throwing. The area didn't seem too big so he began searching, but there had been a very generous amount of fine mulch placed in the garden that seemed to swallow the ring. Dave searched and was astonished that his ring was so hard to find, as the area of the loss was not that large. He then began an Internet search to try to find a way he could find his ring, and found me through The Ring Finders.
I realized that I needed to change my coil from the 11 inch to the 6 inch in order to maneuver in and around the plants, also to discriminate the different metals that were in the flower bed. There were speaker wires, and steel clips that held the sprinkler system that I had to deal with, so I needed the small footprint on my coil to be able to find the ring without it getting masked out by the other metals. In about 10 minutes using the detector and pin pointer, I was able to locate Dave's ring, a ring he has had for 15 years now, found a little outside the area he had originally thought it should be. It was certainly great to see his joy returned, and the ring's story continued.
If you lose your ring or other metal item of value, don't buy a metal detector or rent a metal detector, but call one of the members of this directory. Look at the different metal detecting Ring Finder blogs and read their success stories, then call them ASAP, and they will work hard for you to find what you thought might never be found again.
I search, Cabrillo Beach, Hermosa Beach, Huntington Beach, Long Beach, Malibu, Manhattan Beach, Newport Beach, Redondo Beach, Santa Monica, Seal Beach, Torrance Beach, Venice Beach, and all parks, yards, gardens, and ponds (to 5 foot depths) in Orange County and Los Angeles County.