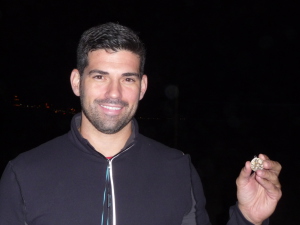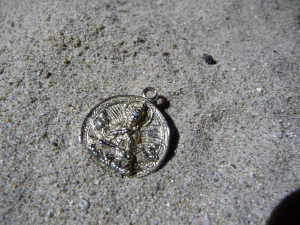 I received a call from Ben this evening about a charm his girlfriend had lost at the beach this last Sunday. I knew that because three days had passed, I would have to get on this one immediately. Fortunately we had some storms this last week, which kept people off of the beach, and also kept the beach cleaning equipment from working the beach. Because of these factors I figured we had a fair chance of finding the charm. Ben and his girlfriend had been on the beach between the volleyball courts, tossing a football around, and scrimmaging for fun. It wasn't until after all the fun, that the charm was found missing. I got to beach, and met Ben, he showed me the area, and I got started. It took about 15 to 20 minutes until I heard a good sound in my headphones. I had already found a quarter, and a dime, but this time when I pulled out my scoop, I told Ben, I think I found what you are looking for. This charm means a lot to Ben's girlfriend, so he knew she would be happy to have it back. I could see that Ben was very happy to be a part of finding it for her. More smiles today.
If you lose your ring or other metal item of value, don't buy a metal detector or rent a metal detector, but call one of the members of this directory. Look at the different metal detecting Ring Finder blogs and read their success stories, then call them ASAP, and they will work hard for you to find what you thought might never be found again.
I search, Cabrillo Beach, Hermosa Beach, Huntington Beach, Long Beach, Malibu, Manhattan Beach, Newport Beach, Redondo Beach, Santa Monica, Seal Beach, Torrance Beach, Venice Beach, and all parks, yards, gardens, and ponds (to 5 foot depths) in Orange County and Los Angeles County.
2 Responses to "Charm Lost in Manhattan Beach, CA…Found."