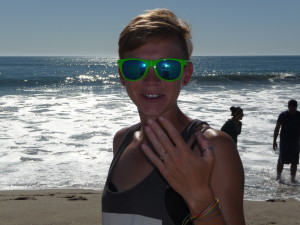 I received a call from Christa today asking for help to find her ring lost in the sand. She had gotten out of the water, and was brushing herself off, when her ring flew off of her finger and into the sand. She had looked for a while, and then felt the search futile. I got there and found that she had the area of the loss cordoned off with a rectangular line drawn in the sand, which helped narrow the search down. Within about 10 minutes, I was able to hand Christa back her ring. I am glad I was able to make her day.
If you lose your ring or other metal item of value, don't buy a metal detector or rent a metal detector, but call one of the members of this directory. Look at the different metal detecting Ring Finder blogs and read their success stories, then call them ASAP, and they will work hard for you to find what you thought might never be found again.
I search, Cabrillo Beach, Hermosa Beach, Huntington Beach, Long Beach, Malibu, Manhattan Beach, Newport Beach, Redondo Beach, Santa Monica, Seal Beach, Torrance Beach, Venice Beach, and all parks, yards, gardens, and ponds (to 5 foot depths) in Orange County and Los Angeles County.
4 Responses to "Gold Ring Lost at Venice Beach, CA…Found."