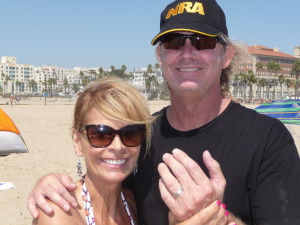 I received a call from Rob's wife this morning asking if I could help them find his ring. They were enjoying their day at the beach, and Rob decided to dig in the sand, and when he was done, his ring was gone. I was very confident I would find his ring, because it was lost today, and they knew the exact location. I set up, and began my search, after about 5 to 10 minutes, I was able to hand Rob his ring back. Smiles all around. What a great and wonderful hobby.
If you lose your ring or other metal item of value, don't buy a metal detector or rent a metal detector, but call one of the members of this directory. Look at the different metal detecting Ring Finder blogs and read their success stories, then call them ASAP, and they will work hard for you to find what you thought might never be found again.
I search, Cabrillo Beach, Hermosa Beach, Huntington Beach, Long Beach, Malibu, Manhattan Beach, Newport Beach, Redondo Beach, Santa Monica, Seal Beach, Torrance Beach, Venice Beach, and all parks, yards, gardens, and ponds (to 5 foot depths) in Orange County and Los Angeles County.
2 Responses to "Wedding Ring Lost at Santa Monica Beach, CA…Found."