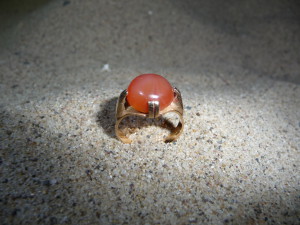 I received a call from Sean today wondering if I would be able to help him find a ring. After discussing the details I felt we should go to the spot after most people had left the beach. Sean explained that he had been out on a first date the night before, when they decided to go to the beach at night to watch the surf, and get to know one another. At some time when they were sitting there his new date lost her ring, a ring her late grandmother had given her before she passed away. They searched for the ring, but it seemed to have disappeared into nothingness. Sean felt so bad for his date that he was going to try all avenues to find her ring. I am happy that I was called to be a part of the recovery, and return the joy to this young lady. When I found the ring Sean was overjoyed, and was immediately on the phone with his date, who Sean said was in tears of joy. Sean's date was not at the beach with us, so I was not able to get a picture of her with her ring, but if I do I will post it.
If you lose your ring or other metal item of value, don't buy a metal detector or rent a metal detector, but call one of the members of this directory. Look at the different metal detecting Ring Finder blogs and read their success stories, then call them ASAP, and they will work hard for you to find what you thought might never be found again.
I search, Cabrillo Beach, Hermosa Beach, Huntington Beach, Long Beach, Malibu, Manhattan Beach, Newport Beach, Redondo Beach, Santa Monica, Seal Beach, Torrance Beach, Venice Beach, and all parks, yards, gardens, and ponds (to 5 foot depths) in Orange County and Los Angeles County.
4 Responses to "Heirloom Ring Lost at Santa Monica Beach, CA…Found."