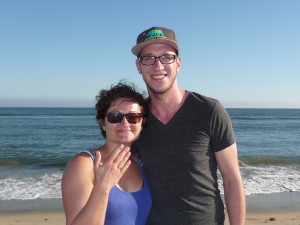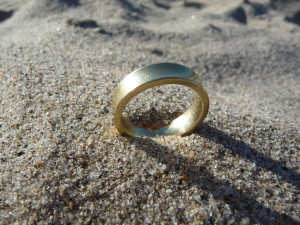 I received a call earlier today from Christian asking if I would be able to help him find a ring lost at Malibu Beach. I had one commitment to take care of, and asked if he would be able to wait until I was done, which he agreed to do. Traffic was favorable, and I was at the site in an hour. I found out that Christian and his wife of about 1 year were visiting the US from Germany, and wanted to spend a little time at one of our popular beaches. It turned out that it was his wife Freida's ring that was lost. She had removed it, and put it on her towel, but soon after a wave came over the rise in the sand which caused her and her husband to jump up, and move back so as to not get wet. It was then that she realized that the ring had been on the towel, and was now in the sand. Christian and Freida, along with two of their friends searched the sand for over an hour, but with no luck. Christian then turned to the internet to look for help, and found The Ring Finders. I set up, and began my search grid. I went up, and then came back. As soon as I was about half way back I got a real good hit in the head phones, put in the scoop, and pulled out a nice heavy gold band. When I asked Christian what I was looking for, he just held up his ring, because the rings were identical; that would be hard to replicate for sure. I am sure glad that this nice couple from Germany will be able to go back home without a tugging in their heart of something meaningful to them, left behind. What a great day!
If you lose your ring or other metal item of value, don't buy a metal detector or rent a metal detector, but call one of the members of this directory. Look at the different metal detecting Ring Finder blogs and read their success stories, then call them ASAP, and they will work hard for you to find what you thought might never be found again.
I search, Cabrillo Beach, Hermosa Beach, Huntington Beach, Long Beach, Malibu, Manhattan Beach, Newport Beach, Redondo Beach, Santa Monica, Seal Beach, Torrance Beach, Venice Beach, and all parks, yards, gardens, and ponds (to 5 foot depths) in Orange County and Los Angeles County.
6 Responses to "Gold Wedding Ring Lost at Malibu Beach, CA…Found."