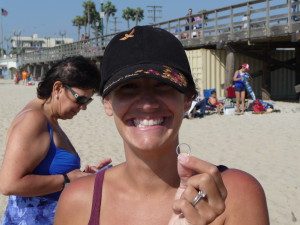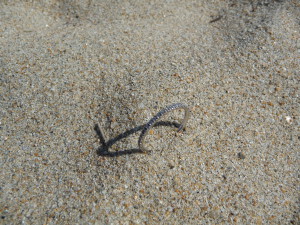 I had just spent the morning metal detecting the beach, and was on my way home, but was going to do some shopping first. I had just entered Costco when my phone rang. Katelyn called and said she had lost her ring at the beach, and was unable to find it. Well I still had all of my equipment in the vehicle, and knew the beach was about 45 minutes away, and also knew that this beach is one that gets cleaned real good, so time once again was working against me. I told Katelyn I would be there as quickly as possible, and she said she would wait for me. I left my cart in the aisle and took off for the beach. When I got there she had cordoned off the area she thought the ring was lost in using towels, toys, baskets, and a wagon, which was a great help. I got ready, and began my search. I searched the whole area, and then we had to start moving the "fencing". We moved everything, and no ring. Then we moved the wagon. I searched the area under the wagon, and then the area behind where it was parked, and that is when I heard the sweet tone of gold in my earphones. One scoop was all that was needed, and Katelyn had her ring back. What a joy to see her joy today. She told me she had taken it off when she was putting her hand in the sand, and then found it missing. She also said that she and her husband just celebrated their first wedding anniversary last month, so what a disappointment it was to lose the very symbol of that occasion. I am thankful I was able to help Katelyn today. Katelyn was referred to me by Stan Ross (fellow Ring Finder).
If you lose your ring or other metal item of value, don't buy a metal detector or rent a metal detector, but call one of the members of this directory. Look at the different metal detecting Ring Finder blogs and read their success stories, then call them ASAP, and they will work hard for you to find what you thought might never be found again.
I search, Cabrillo Beach, Hermosa Beach, Huntington Beach, Long Beach, Malibu, Manhattan Beach, Newport Beach, Redondo Beach, Santa Monica, Seal Beach, Torrance Beach, Venice Beach, and all parks, yards, gardens, and ponds (to 5 foot depths) in Orange County and Los Angeles County.
2 Responses to "Wedding Band Lost in Seal Beach, CA…Found."