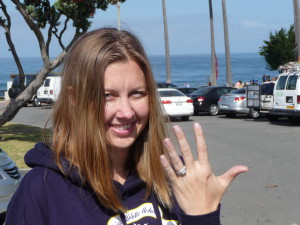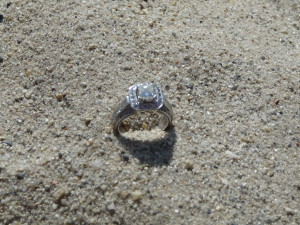 This morning at about 8:00, I received a call from a young lady telling me she had lost her wedding ring. I could hear the emotion in her voice, which let me know she was very distraught. She lost it the day before, and had searched for it herself and was not able to find it. We arranged to meet as soon as possible. I knew the area she lost it in, and also knew the beach cleaners worked that area meticulously, so I was a bit worried initially about being able to find it, knowing time is the enemy we deal with. When we walked down to the area she was in, and showed me the general location, I could see that the beach cleaners had not gone over that portion of the beach, so I was very encouraged. I set up a perimeter, and began my grid. I went out, and then came back, a foil lid, a dime, a penny, and then I heard that low growling sound in my earphones from my Minelab Excalibur ll. I was standing next to her when I pulled my scoop up to see what was inside, and looked at one of the most beautiful pieces of jewelry I have seen. I had showed her the foil, the dime, and the penny when I found them, so I imagine she expected the same when I reached into my scoop. All I can say is that the look of surprise, and joy which appeared on her face when I showed her what I had found was priceless. She and her husband had just gotten married last Summer, and there were some other things that made this ring very important to her. She said her husband had reassured her that it could be replaced, but she knew it would not be the same ring.
This nice young lady sent me the following email, wanting to share her experience as to what this recovery meant to her:
I lost my wedding ring at the beach on a Friday. My husband and I searched and searched the area with no success. It was a rough night to say the least. Early on Saturday morning I called the first 800 number I found after searching on the internet for help. I was in tears as the man I spoke with told me he could help me and gave me Steve Smith's phone number. I was speaking with Steve minutes later and an hour later, Steve met me at the beach. Within ten minutes and three digs, I had my wedding ring back on my finger. I can't even begin to express my gratitude for Steve. He was quick to respond, very professional, and successful in finding my ring. Thank you Steve!!!
So the story of this ring continues. I am so happy to be able to bring this joy to people.
She was referred to me by Joe DeMarco of DeMarco Detector Sales.
If you lose your ring or other metal item of value, don't buy a metal detector or rent a metal detector, but call one of the members of this directory. Look at the different metal detecting Ring Finder blogs and read their success stories, then call them ASAP, and they will work hard for you to find what you thought might never be found again.
I search, Cabrillo Beach, Hermosa Beach, Huntington Beach, Long Beach, Malibu, Manhattan Beach, Newport Beach, Redondo Beach, Santa Monica, Seal Beach, Torrance Beach, Venice Beach, and all parks, yards, gardens, and ponds (to 5 foot depths) in Orange County and Los Angeles County.
4 Responses to "Lost Wedding Ring Redondo Beach…Found!"