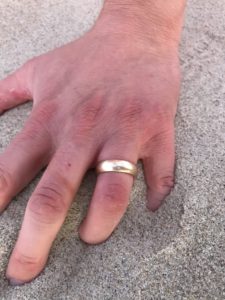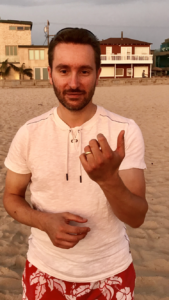 The Ring Finders Metal Detector Service found and returned a lost wedding ring in Mission beach. OPEN NOW CALL 760 889 2751
Saturday July 7th I received a call from John Hughes a fellow member of Theringfinders asking if I could take a call to Mission beach and help a guy find his lost ring,Again! John already had found and returned David's ring a year prior at another beach but wasn't able to go due to a painful back operation.
I called David and after a few questions of how it was lost I was on my way to help.
I showed up just before the sunset & met David who had placed his Gold ring in a bag for safekeeping while he went into the ocean for a swim.He showed me a 200' area in the dry sand of where it may of dropped into. I proceeded with a grid search pattern for about 10 min and after digging just a couple penny's I was able to recover this precious ring!
it was back on David's hand,hopefully for the final time! Thank you for the generous reward.
Tags: Mission beach,Pacific beach,la Jolla,Torrey Pines,Del mar,Solana Beach,Cardiff,Encinitas,Carlsbad,Oceanside,Camp Pendleton.