---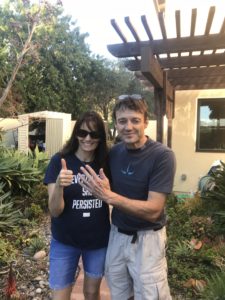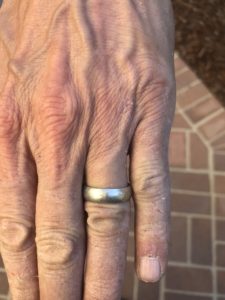 The Ring Finders Metal Detector service helped find a lost ring in San Diego.
OPEN NOW 24/7. Call 760 889-2751
I received a text Thanksgiving eve asking if I could help find a wedding ring Lost in a back yard after the husband was doing yard work removing landscaping and noticed his ring was gone! We agreed to meet Friday just after the holidays to give it a search.
Promptly arriving and meeting the nice family I was shown a few prospective areas that it may of been lost at a week earlier…There were many probabilities,Not just the amount of excess leaves, branches, bushes, shrubs, plants,Rebar,Nails,but Metal Detectors near sodium lights and Homes will interfere and give false signals that makes problems to even your average Hobbyists Metal detector guy.
After going through the first possible areas in the front yard I had found confidence that it's not there. The second place to scan over is where he had first started to cut and remove debris. I began the search and heard 2 strong signals inches apart that were ferrous and Non-Ferrous metals so I reached down to the most likely target sounding like a Platinum ring using a hand held metal detector pinpointer And there was a shiny Wedding ring buried under vegetation!
They were so happy and in shock but Shockingly so was I to find this so fast. It only took just a 20 minute hunt to find his lost platinum wedding ring of 14yrs buried in San Diego! What a great service to be a member of and it's such an Honor that I can help others in need.
San Diego Ring finder,San diego Ringfinder,Metal Detector Solana Beach,
Solana Beach Metal Detector,
Lost ring Solana Beach,
Solana Beach Ring Lost, Lost ring beach,Lost ring grass,Lost ring backyard,Lost ring house,Lost ring buried San Diego.Mission Beach Metal Detector rental,Pacific Beach Metal Detector.Tags.Best Ringfinder S.D