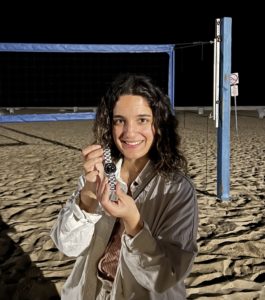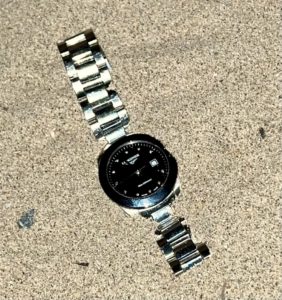 Mobile Metal Detecting Service … Call Stan the Metal Detector Man .. Available Now ..949-500-2136
*** SINA and her family had spent the day and evening at Corona Del Mar State Beach with is Newport Beah, CA. They played volleyball and had been at the Firepits till the beach closed at 10pm. 
When they got ready to leave Sina's watch was missing from the pocket in her jacket. They spent two hours searching the sand. Then Sina got my information from her friend that I had helped find a lost ring last year. 
They called me just after midnight, apologizing for the late call but needing help. I live just a couple miles from the beach and told them would meet them at the volleyball courts in 20 minutes. 
They believed that the watch was most likely at the volleyball court in the sand or possibly at the fire pit where she had been most the day. I set up my detector and began a grid search in the dark. About 15 minutes into the search, BOOM! a good signal and I carefully scooped up the watch. 
They were completely surprised because after they saw how tedious the grid search process was, they knew it was a large area that could have taken hours to search. The best chance to find the watch in a timely manner,  was to start where the most action occurred. The truth is we were lucky to start at the volleyball court. 
Happy family and especially Sina who had her watch back where it belongs.. I love being available to help people find their lost valuables.m
I WILL TRY ANYWHERE! Call anytime 24/7 for help.. Stan the Metal Detector Man … 949-500-2136