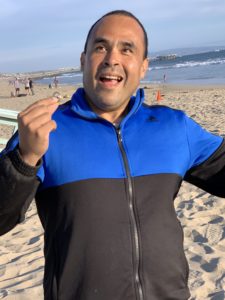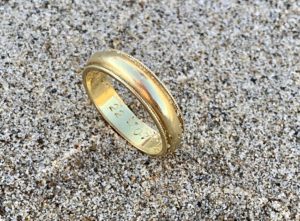 Mobile Metal Detector Service by Stan Ross member of TheRingFinders call now.. 949-500-2136 .. Available Now.
Daniel and his wife are from Peru enjoying a visit to Venice Beach, CA. He lost his ring in the dry sand when he brushed some sand off his pants. Someone on the beach suggested that he contact TheRingFinders.com. He didn't have a working cell phone, but the person helped him by letting Daniel use her phone.
When Daniel contacted me, I was just 5 miles away. I made sure I had his correct location because we wouldn't have cell phone communication. It sounded like it could be an easy search, but if I couldn't find him it would be terrible. Many people are not good at giving directions. 
Everything worked out perfect. I found a parking space very close to his location. He saw me walking across the beach and met me with hands waving in the air. 
I set up my detector while asking him what type of metal was the ring made of and what exactly happened when he list the ring. Basically, I could see the search area because he had left many finger drag marks in the sand.
It was a quick recovery with Daniel and his wife very happy to have the very special sentimental ring back where it belongs. They had no idea that this service exists. To me, it is special because I know losing a wedding ring while vacationing would certainly upset the vacation and definitely not be a good memory
"I WILL TRY ANYWHERE"