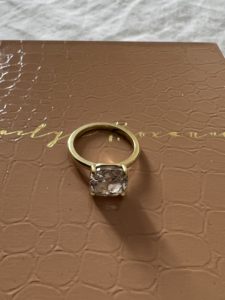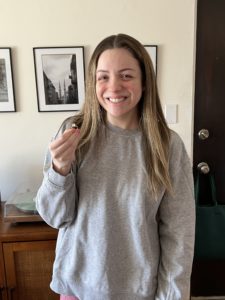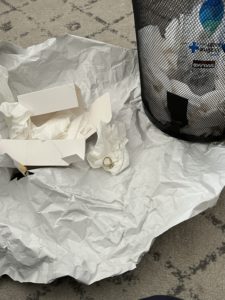 Metal Detecting Service .. Call Stan the Metal Detector Man ..  949-500-2136
*** Chloe lost her gold diamond engagement ring in her house. She called me for help.  Usually I, recommend that she not throw any trash away before checking it and check the house for a couple days before I do a house search. She was very upset and when she told me details of the loss, I had to go right away to do the house search in West Hollywood, Los Angeles, CA.
Chloe had taken her two ring wedding set off before taking a shower. She set them both on top of a wrapped present that was on a chest of drawers in the bedroom. She took a shower in the bathroom that is right next to the bedroom. ( 5ft. away) After returning to the bedroom, she went to put her rings on but the gold diamond engagement ring was missing.
Curiosity got my attention, she said it happened yesterday and she had not left the house. I had to take this search on. I drove to her home in West Hollywood, Los Angeles, CA. 
After arriving at Chloe's home, we went to the room where the ring went missing. I now had a first hand view of where this loss happened. There was absolutely no place near where she set the rings to search. She said she had already checked the trash. 
I was completely puzzled, I thought there might be a crevice or drawer that the engagement ring could have been knocked off ending up inside. I always like to have a place that I can use my endoscope camera for searching. Nothing, like that ! We moved the chest of drawers away from the wall, no place for the ring to hide. 
While I was on my hands and knees on the floor, I decided to double check the small trash bin using my hand held pinpointer detector. ( this is the same trash bin Chloe had checked).. There were only a few tissues and the wrapper for the present she had opened. BOOM!! The ring was inside one of the first pieces of paper tissues. Chloe was beyond overjoyed and a little embarrassed that she had missed finding her ring when she searched it.. After many searches, I believe that a lot of rings end up in the trash and they don't get found. 
If you loose something in the house, it's not going to leave the house unless you throw it in the trash or it gets sucked up into the vacuum and hauled off to the local land fill .
Don't wait, call as soon as possible… Stan the Metal Detector Man …  949-500-2136  .. "I WILL TRY ANYWHERE "