I am an expert metal detectorist with the knowledge, skill, and experience to recover your lost items on land and underwater. Please text or call as soon as possible: (703) 598-1435
Found May 15th, 2023
Last fall, Will was doing yard work when he realized his ring was missing. He had been mowing his beautiful yard and thought it might have slipped off while emptying the grass catcher. While he was reading Reddit articles, Will came across one mentioning one of my recoveries. He texted me, and we set an appointment on a lovely day to conduct a search.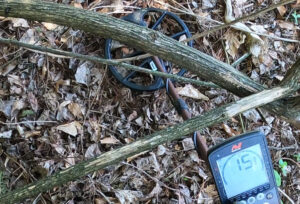 Will showed me where he dumped his grass clippings in his back yard. There were a number of reasonable target IDs in the area, and each one had to be identified. After a long search through the piles of debris with a rake and shovel, I expanded the area to go under low tree branches and around large stones. Finally, I heard a clean signal (with a VDI of 15). Gently scraping the leaves away, the ring appeared!
Rob Ellis: Metal Detector Expert… Call/text ASAP, (703)-598-1435
Don't give up. Many of my clients have bought, borrowed, or rented a metal detector before calling me. Just because someone has a tool, it doesn't mean they know how to use it. I use state of the art equipment, and I have thousands of hours of experience searching on land and underwater. If you have tried using a detector without success, please call to see if I can help.