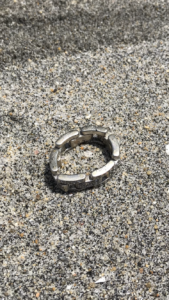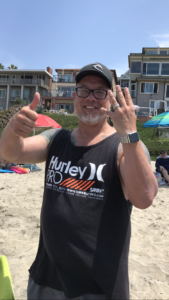 Theringfinders metal detector service helped find and return a lost diamond ring in the sand.OPEN NOW 24/7 Call 760 889 2751
I received a call from John Hughes to help find a men's ring at Carlsbad beach.He had already scanned over the 12X12 area multiple times with 2 different metal detectors but was not able to find it due to this type of ring being what's known as a "Broken signal." It is a chain linked style ring which can act as a non-conductive metal that disables most type of detectors from picking up the signal.
Fortunately I recently invested in a new high frequency machine that will pick up broken signals such as Gold Chains,gold earrings with an open loop etc.
When I arrived to the scene of the lost ring I met Johnny who had preserved an area in dry sand with beach chairs. I asked a few detective questions mostly about the style of this chain linked ring,then began my search.
After 5-10 minutes with a few small pieces of trash I got a steady low tone on my machine while shaking my sand scoop I had  unearthed Johnny's hefty Gold diamond ring.He was stoked and relieved to have this precious metal back on his finger. What a great feeling it was especially as the local beach goers were clapping & cheering after it was Returned !
Thank you Johnny for the gratuity and John Hughes for calling me to help others.