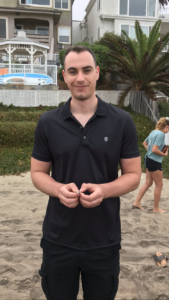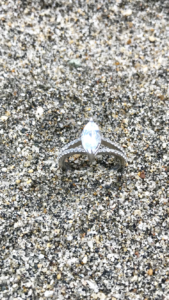 The Ring Finders Metal Detecting Service helped find a Lost Gold engagement ring in the dry sand at Carlsbad beach. OPEN NOW; CALL 760 889 2751.
On July 16th. I woke up from a text regarding a Lost ring at Carlsbad beach with the location and immediately was on my way. When I arrived at 6:20am I previously had texted Hannah back asking if she could meet me there to finer tune in the area this ring could of disappeared into the dry fluffy sand. I spent some time searching the approximate location until she called then came down the stair case minutes later.I asked her some questions to better help recovering the lost ring when Hannah told me she doesn't know what the ring looks like or the exact area because it was lost just before the proposal! ….Uh Oh!
This scenario has actually happened numerous times to so many people believe it or not. I did search the heck out of the small 20' X 40' Zone crossing my grid pattern 2 times with no avail. Fortunately the Groom to be,Scott also arrived later so I asked him a few more Q's & concerns when he eventually did say he felt the ring drop into the sand!
This helped me circumvent this situation much better especially after it was lost at night.It's difficult to remember landmarks or the precise spot in the dark for us all which meant I needed to expand the area thoroughly.
So I expanded my search further south then further North beyond the embrasured area when I suddenly got a Signal and noticed what appears to be just another pull tab buried.So I dug it up anyways while Seeing the glimmer of a Gold Diamond ring that would make anyone smile:) 💍
Scott was relieved but in distraught about the hole ordeal although he must know how he's very lucky to have met a beautiful gal in his life to Marry and call it quits forever and ever… This is one "Bucket list" thing I have never found after metal detecting for 12 years while saving marriages for over 5 years. I sure have come across plenty of Nightmares but no dream has ever come true for me.!
Best wishes to Hannah & Scott from Ohio.