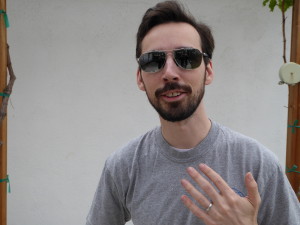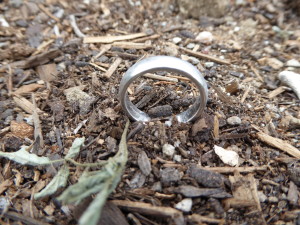 I received a call from David Thursday night about his wedding band he thought was lost in the backyard while working in the garden. I talked to him about arrangements to meet at his house, and because I knew that there wasn't much of a chance it going anywhere, I figured the ring would be safe. Well David informed me that he had a lot of squirrels in the area, and he worried one of them might run off with it. I had not thought of that possibility, so we arranged to meet at our earliest convenience which was today.
When I got to the house David showed me to the yard where the garden was. It was a good sized plot that was covered with a thick layer of fresh mulch. David explained how he had been pulling the crabgrass from the garden, and digging deep to get the roots out. It also had steel fence posts hammered into the ground spaced out at equal intervals throughout the garden which I explained would make my search very difficult, so we decided to remove them. I started my search and was getting a lot of iron readings on my detector, and remembered from a previous search, that some mulch companies put rusted nails and screws in their mulch to add iron to the soil. I received a good signal, and dug a very small piece of non ferrous metal. I continued on in another plot, and after setting one grid line, I received a very good signal, and got my plastic trowel (so as not to hurt the ring) and my pin pointer to focus the search. I found the ring about 3 to 4 inches underneath the mulch. David and his wife were very happy to have his token of their promise to each other back on his hand. I in turn was happy to be able to make someone's day today.
If you lose your ring or other metal item of value, don't buy a metal detector or rent a metal detector, but call one of the members of this directory. Look at the different metal detecting Ring Finder blogs and read their success stories, then call them ASAP, and they will work hard for you to find what you thought might never be found again.
I search, Cabrillo Beach, Hermosa Beach, Huntington Beach, Long Beach, Malibu, Manhattan Beach, Newport Beach, Redondo Beach, Santa Monica, Seal Beach, Torrance Beach, Venice Beach, and all parks, yards, gardens, and ponds (to 5 foot depths) in Orange County and Los Angeles County.