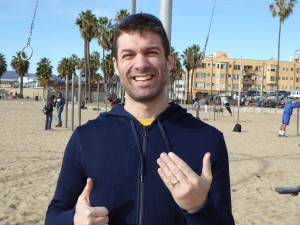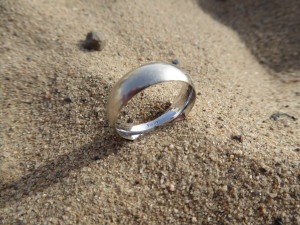 I was on my way home from a store on Christmas Eve morning when I received a call from Michael about his lost wedding ring. He had been using an adult exercise area at the beach, when he felt it fall out of his pocket, and had searched for over an hour to locate it. I asked if he could wait a little while because I was away from home (and equipment) at the time, when he told me he was checking out of his hotel, and headed back to Las Vegas at 12:00 PM. I told him I would get there as soon as I could, I just needed to drop off the cargo, and get my equipment together. I also had to instruct my son and wife as to how to get the grill going and put on the prime rib roast we were having for dinner that evening, because I knew I would be gone when it was time to get it going. One thing was certain, if it was at all possible, Michael was not going home without his ring.
Michael sent the information, and pictures as to where the loss occurred, which was very helpful, and I told him that I would let him know when I arrived for the search. I got to the spot, and began my search, pausing on occasion to allow people to pass through during their exercise and then resuming my search. After about 10 minutes, I found Michael's ring, and promptly sent him a text with the ring's picture, as he hadn't arrived yet. When he did get to the area, he was very happy that his ring had been found, and grateful that I was willing to come out on Christmas Eve to  help him. I am sure I am speaking for all of the Ring Finders who are a part of this directory when I say, it was my pleasure to do this for you Michael, and to be able send you home with a great smile.
If you lose your ring or other metal item of value, don't buy a metal detector or rent a metal detector, but call one of the members of this directory. Look at the different metal detecting Ring Finder blogs and read their success stories, then call them ASAP, and they will work hard for you to find what you thought might never be found again.
I search, Cabrillo Beach, Hermosa Beach, Huntington Beach, Long Beach, Malibu, Manhattan Beach, Newport Beach, Redondo Beach, Santa Monica, Seal Beach, Torrance Beach, Venice Beach, and all parks, yards, gardens, and ponds (to 5 foot depths) in Orange County and Los Angeles County.