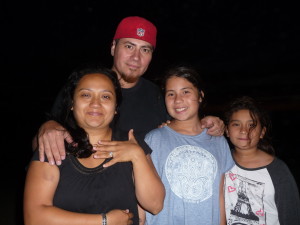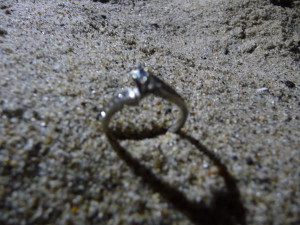 I was at home enjoying an In-N-Out hamburger watching the Oakland Raiders and Arizona Cardinals duke it out on the gridiron when I received a call from Ulises explaining that his wife lost her wedding ring, and asked if I would be able to come and help them. I said as soon as I finished my meal, I would be on my way. I know it is so important to get on these searches right away, because the beach is mechanically cleaned by the County every day, and it would more than likely be picked up by their machines, yet I wanted to find the ring for them. They were at a local beach, in fact the one I had surfed at the day before, so I knew it well.
When I met them at the beach, I could see that they had been searching the area. I asked them what had happened, and I am sure it seemed like the beginning of a nightmare for his wife Maria. What happened was that they were at the beach earlier and Maria had taken her ring off to put on sunscreen. She put it in a cup so as not to forget where it was, but when it was time to go, in the busyness of getting ready she forgot she had put it there. She then wanted to remove some sand from where the cup was, and that is when they thought the loss happened.
What happened between that time and the time they called me was that they had driven home (about a 40 mile drive), and it wasn't until they were ready to leave for another appointment that Maria noticed her ring missing. They then got back in the car and made the trek back, and began their search. It must have been most disheartening to arrive there, and knowing the approximate area you had been in, but not being able to find the ring. Their search was arduous yet with no results. The problem was that they showed me about 30 feet of beach, and that is a lot of sand to search, even with a metal detector. I put on my extra large coil, and began my search, Maria then directed me the other way, and in about 10 minutes total, I had her ring in my scoop.
Maria got very emotional at the sight of her ring, the ring her husband had given her 13 years earlier. I was so happy to make her day, and you can see by their picture that they were going to sleep well tonight. More joy, more smiles, and I will also sleep well tonight.
If you lose your ring or other metal item of value, don't buy a metal detector or rent a metal detector, but call one of the members of this directory. Look at the different metal detecting Ring Finder blogs and read their success stories, then call them ASAP, and they will work hard for you to find what you thought might never be found again.
I search, Cabrillo Beach, Hermosa Beach, Huntington Beach, Long Beach, Malibu, Manhattan Beach, Newport Beach, Redondo Beach, Santa Monica, Seal Beach, Torrance Beach, Venice Beach, and all parks, yards, gardens, and ponds (to 5 foot depths) in Orange County and Los Angeles County.