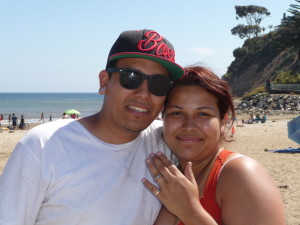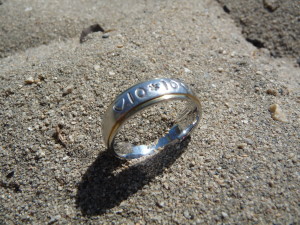 Daisy called me today, and asked if I would be available to help find her ring. I was ready to go in just a few minutes, and withing 40 minutes I was with her and her husband at the beach. She showed me the area she believed the ring to have come off, near a fire pit. I asked what sort of metal it was made of to help me in my search. Her husband said it was exactly the same as his, so we put his down so I could get a reading to go by. When I began my search I was overloaded with the sounds of all types of metal; metal was everywhere, and I thought it was going to be a tough search. I asked again to scan his ring, and got the sound, and numbers fixed into my head.
I began a thorough search of the area, and then cross gridded again, but was not able to find it. It was tough with so many signals, pull tabs, bottle caps, foil, nails, and screws, as well as numerous other metal signals. Almost every inch of ground was a signal, but few of the ones I was looking for. When it seemed the search was over, I told them I felt I should have found the ring, even though she had lost it the previous day. It just should have been an easy search. They decided to leave, but I still had some time on the clock, and said I would do a little more searching before I left, and would contact them whether I found the ring or not. When they were gone I decided to search another similar fire pit thinking that maybe they might have been mistaken as to which one they sitting near, but with no results. So as a last ditch effort, I went back to first fire pit, and worked the area they originally showed me, but slowed the whole process down to a slow motion picture slow, if not slower. It was so slow it almost seemed as if I was not swinging my coil, and then I heard the faint sound I was looking for very shallow, but covered by a multitude of other sounds.
There was Daisy's ring. I got right on the phone, and called them back, they were so grateful, and happy. They were thankful that I didn't give up when they left, as was I, because I would not have been able to see these two smiling faces like this. They told me they have been married since March 2015 (4 months). Returning smiles, and joy to people, how much more fun can you have!
If you lose your ring or other metal item of value, don't buy a metal detector or rent a metal detector, but call one of the members of this directory. Look at the different metal detecting Ring Finder blogs and read their success stories, then call them ASAP, and they will work hard for you to find what you thought might never be found again.
I search, Cabrillo Beach, Hermosa Beach, Huntington Beach, Long Beach, Malibu, Manhattan Beach, Newport Beach, Redondo Beach, Santa Monica, Seal Beach, Torrance Beach, Venice Beach, and all parks, yards, gardens, and ponds (to 5 foot depths) in Orange County and Los Angeles County.