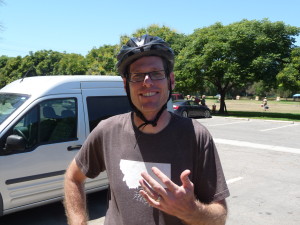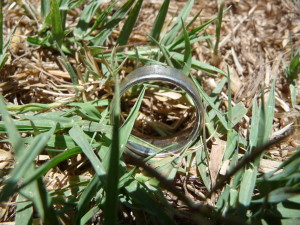 Jacob called me today explaining how he had lost his ring while jogging around his local park. He asked if I would be able to help him, and I told him I would leave immediately to meet him at the park. When I arrived he met me, showed me the area, and I then began asking all the pertinent questions to asses the possible area of the loss. I determined about where the ring would have landed from what Jacob told me. The good thing was that he had heard the ring hit the sidewalk when it dropped, so he had a good idea of where it could have landed.
I began my search in the area he first thought the ring may have landed, and continued forward about 60 to 70 feet checking all signals with my pin pointer. I then heard a nice solid signal with the detector, and looked down to see the ring right about where I thought it may have landed from the sidewalk. The ring was white gold and seemed to reflect the surrounding grass (both brown and green) in such a way as to camouflage it if you were looking down at it. The detector once again played a big part in recovering a ring and renewing its story. It was great to be able to restore Jacob's smile today. Referred to me by fellow Ring Finder Stan Ross.
If you lose your ring or other metal item of value, don't buy a metal detector or rent a metal detector, but call one of the members of this directory. Look at the different metal detecting Ring Finder blogs and read their success stories, then call them ASAP, and they will work hard for you to find what you thought might never be found again.
I search, Cabrillo Beach, Hermosa Beach, Huntington Beach, Long Beach, Malibu, Manhattan Beach, Newport Beach, Redondo Beach, Santa Monica, Seal Beach, Torrance Beach, Venice Beach, and all parks, yards, gardens, and ponds (to 5 foot depths) in Orange County and Los Angeles County.