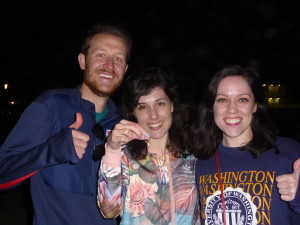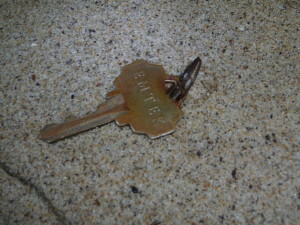 I was sitting in my recliner after dinner this evening, watching one of my new surfing videos when I received a call from Nate. He was asking if I would be able to help him find a key that was lost on the beach. I let him know that it was possible if he could get me in the general vicinity of the loss. I was about 30 minutes out, but that city was having a festival at the beach, so I knew it would take a bit longer to reach the destination because of parking. This beach is cleaned daily, and the county does a very good job. It was important to look tonight. I made sure it was going to be alright with Nate. He gave me the go ahead, so I packed my gear and headed his way.
When I got there, Nate met me with his friends Jill and Libby (who also is a news anchor for a local radio station). We went to the area where they said the key was lost, and I could see the sand had been moved around a lot from their searching. They told me they had been looking for a while for that lost key, were feeling a bit discouraged, and were thinking about a locksmith. The key was for a house that their friend had let them use, as they had come down from Seattle for a vacation.
It was now dark, so I put on my head lamp, and gave a flashlight to the group to help them see. I began my search in the area they pointed out, and set a tight grid. I went back and forth for about 10 minutes, without hearing a sound. Normally the detector will find foil, pull tabs, bottle caps, and even coins, but here there was nothing, the beach was clean, to the point I was about to swing the detector over my scoop to make sure it was working. Right then I got a signal, and it was a good one, the only one. It was the key, and everyone was happy with handshakes, hugs, and high-fives. I am glad they called me out tonight, because I knew if we had waited another day, the key would have been picked up by the county beach cleaners, and never have been found. what great happiness, and smiles to go around.
If you lose your ring or other metal item of value, don't buy a metal detector or rent a metal detector, but call one of the members of this directory. Look at the different metal detecting Ring Finder blogs and read their success stories, then call them ASAP, and they will work hard for you to find what you thought might never be found again.
I search, Cabrillo Beach, Hermosa Beach, Huntington Beach, Long Beach, Malibu, Manhattan Beach, Newport Beach, Redondo Beach, Santa Monica, Seal Beach, Torrance Beach, Venice Beach, and all parks, yards, gardens, and ponds (to 5 foot depths) in Orange County and Los Angeles County.
One Response to "Lost Key at Hermosa Beach, CA…Found."