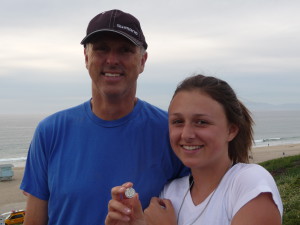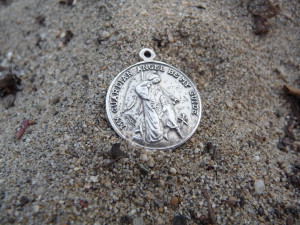 On my way out to a ring search in Newport Beach last Sunday night, I received a call from Maya who told me about a St. Michael medallion she lost at the beach, and asked if I would try to find it for her. I let her know that I was on my way to help someone else at the time, but told her that after I was finished, I would go to the beach she lost the medallion at, and do a search. She did give me very specific directions, and I felt comfortable going because I know the area well. There was a sense of desperation in her voice, so I knew it was important to her that this item be found. I also knew that this beach is cleaned very well on a daily basis by the county, so there was no time like the present to do the search.
I successfully finished the search for the ring and headed to the other beach in Torrance which was about 30 miles away. When I got there it was about 11:30 PM, and I got my gear and began my search. I searched for about half an hour, searching out the box she had laid out for me over the phone, and found the medallion. I sent her a text immediately giving her the good news, and received one back about 4:30 AM from a very thankful young lady. We arranged to meet at the location of the loss today, and her father came along as well. I was glad he did when I asked about the significance of the medallion. He explained that this medallion was given to him when he was 12 years old at his Confirmation, and he had kept it since then. This piece of jewelry is over 40 years in the family. He then gave it to his daughter at her Confirmation. It was at this point that I realized the huge importance of returning this to the family. The story of this St. Michael medallion needed to continue, and it has; I am so happy to be part in it. Great smiles on father and daughter.
If you lose your ring or other metal item of value, don't buy a metal detector or rent a metal detector, but call one of the members of this directory. Look at the different metal detecting Ring Finder blogs and read their success stories, then call them ASAP, and they will work hard for you to find what you thought might never be found again.
I search, Cabrillo Beach, Hermosa Beach, Huntington Beach, Long Beach, Malibu, Manhattan Beach, Newport Beach, Redondo Beach, Santa Monica, Seal Beach, Torrance Beach, Venice Beach, and all parks, yards, gardens, and ponds (to 5 foot depths) in Orange County and Los Angeles County.
2 Responses to "Confirmation Medallion Lost at Torrance Beach, CA…Found."