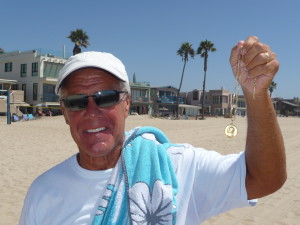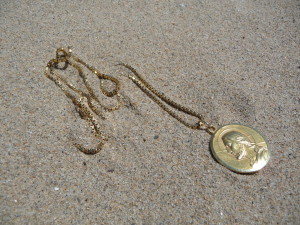 I received a call from Terry's son-in-law about 10:00 AM today asking if I would help his father-in-law find his lost medallion. We arranged to meet at 12:30 at the beach site. I met Terry, and he explained the story behind the medallion (there is always a great story!). He has had this medallion for 35 years now. 35 years ago his best friend went to Rome, and bought two identical medallions of which he kept one, and gave the other to Terry, who has treasured it ever since. Yesterday Terry and his wife went to the beach, and Terry not wanting to lose his treasured item when he went into the water, took it off and left it with his other stuff on his beach chair. The problem occurred when he was ready to leave, and forgot he had left the medallion on the chair when it was folded up to go. He realized when he got back to the car, but found out that the gold sinks real fast as soon as it hits the sand. He and his wife combed the area yesterday, and came back today using different tools to try and find his medallion, but to no avail. He told me that he was going to meet this friend later today, and I am sure felt bad that he would not have his symbol of enduring friendship with him when they met. It was good that they had land-marked the area, so they could put me in the right place for a search. I got ready to search, and Terry realized someone had innocently made off with his beach towel, and it was while he was on his way to get his towel that I received the gold tone in my headphones. I scooped once, and saw the gold chain attached to the medallion. I looked up as Terry was heading out across the beach and yelled out, "Terry you might want to see this". He immediately turned around in almost disbelief that I could have found the medallion so quickly. What a great joy to see such a great joy returned. Terry was referred to me by Stan Ross (fellow Ring Finder).
Terry sent me the following email to include in my blog:
Steve  Many thanks for helping me find my metal that I lost on the beach. It was fantastic when you brought it up out of the sand. It was a gift from my best friend 35 years ago, and i was heartbroken when I lost it. Fortunately you saved the day. I can not thank you enough. Keep up the great work!!!!    Terry
If you lose your ring or other metal item of value, don't buy a metal detector or rent a metal detector, but call one of the members of this directory. Look at the different metal detecting Ring Finder blogs and read their success stories, then call them ASAP, and they will work hard for you to find what you thought might never be found again.
I search, Cabrillo Beach, Hermosa Beach, Huntington Beach, Long Beach, Malibu, Manhattan Beach, Newport Beach, Redondo Beach, Santa Monica, Seal Beach, Torrance Beach, Venice Beach, and all parks, yards, gardens, and ponds (to 5 foot depths) in Orange County and Los Angeles County.
2 Responses to "Friendship Medallion Lost at Newport Beach, CA…Found."