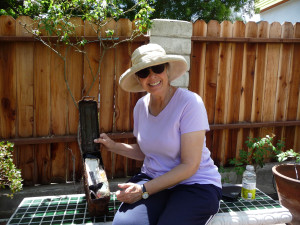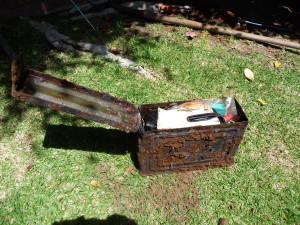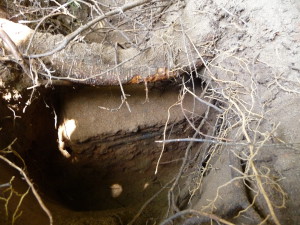 I received a call from Kathrine about trying to find a cache she had buried in her cousin's backyard about 10 years earlier. She had not told me what was inside the cache, except that the box contained things owned by her father, so my metal detecting hormones started to get excited. I started thinking I was going to help this lady find some great jewelry, maybe some gold coins or some silver. I brought along my Garrett AT Pro, and also my ATX in case I had to go deeper.
Kathrine told me the cache was in an ammo container. I started with the AT Pro set in custom pro mode with no discrimination because I know the ammo boxes are steel, and right away got the growling sound of iron. I started to dig, and ended up hitting the concrete footing of the block wall we were near which apparently was reinforced with rebar. I continued my search, and got a target ID of 70, and then 81. I started to think there were maybe a lot of coins in this cache, so I started to dig.
I had to dig around a tree that had grown in the area of the cache in the last ten years, and found the cache under a big root. I got real excited, I had found the treasure, and Kathrine started jumping up and down at the sight of the ammo box under the root, which of course increased my excitement. When I brought the box up out of the ground tears were flowing down her face, and she was excited to get the box open, as was I. As she opened the ammo box and started to bring the treasure out, each item brought tears to her eyes, a pair of her father's old glasses, his old shave cream brush, a couple of slide viewers with pictures of their old house in them, and her mom's ID badge from her previous job. Her parents had been gone a while, and Kathrine had wanted to save these items, so they would not be lost, and now wanted to find them, so they would not be forgotten. What I originally thought of when going to find this cache of treasure, was a short sighted view of what treasure really is. When I saw the tears of joy streaming from Kathrine's eyes, I knew I had found a great treasure.
Kathrine was referred to me by Joe DeMarco of DeMarco Detector Sales.
If you lose your ring or other metal item of value, don't buy a metal detector or rent a metal detector, but call one of the members of this directory. Look at the different metal detecting Ring Finder blogs and read their success stories, then call them ASAP, and they will work hard for you to find what you thought might never be found again.
I search, Cabrillo Beach, Hermosa Beach, Huntington Beach, Long Beach, Malibu, Manhattan Beach, Newport Beach, Redondo Beach, Santa Monica, Seal Beach, Torrance Beach, Venice Beach, and all parks, yards, gardens, and ponds (to 5 foot depths) in Orange County and Los Angeles County.
6 Responses to "Lost Cache in Torrance, CA… Found"