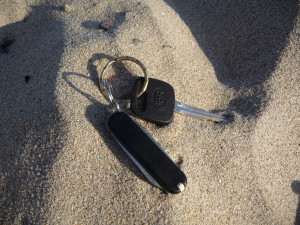 I received another call today for a lost key. Delon called letting me know that he had lost his key, and after thoroughly searching for it, was unable to find it. I let him know when I would be there, and he stayed in order to let me know the area where the key was lost. He was able to put me in the right place, and within 10 minutes, I was able to hand him his key. This was his only key to his car, so he said that they were contemplating towing his car, and having another key made, but said his grandmother told him there were people that had metal detectors, who were available to help people in need, a wise grandmother indeed. He found The Ring Finders on the internet. I am truly honored to be able to represent The Ring Finders, and was happy to have helped Delon get his key back.
If you lose your ring or other metal item of value, don't buy a metal detector or rent a metal detector, but call one of the members of this directory. Look at the different metal detecting Ring Finder blogs and read their success stories, then call them ASAP, and they will work hard for you to find what you thought might never be found again.
I search, Cabrillo Beach, Hermosa Beach, Huntington Beach, Long Beach, Malibu, Manhattan Beach, Newport Beach, Redondo Beach, Santa Monica, Seal Beach, Torrance Beach, Venice Beach, and all parks, yards, gardens, and ponds (to 5 foot depths) in Orange County and Los Angeles County.
2 Responses to "Lost Key Newport Beach…Found!"