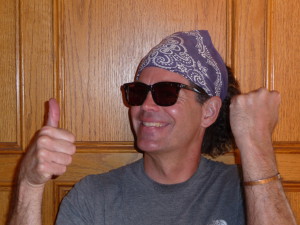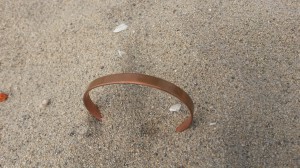 I received a call today to get in touch with a man who had lost a bracelet. I called LC to find out about the loss. He explained to me that it is seemingly insignificant, but that there was a strong emotional attachment to it. When he explained to me what this bracelet meant to him (something only LC could share), I understood the emotion. Also he said that he was going to be seeing the person who had given it to him in the next week, so there was a sense of urgency involved as well. I happened to be in Huntington Beach, CA at the time so I knew the time element was working against me, and headed immediately to Redondo Beach. When I got there, the lifeguard showed me where they had been looking, so I concentrated my search in that area with no success. Soon after, a family that had been next to the search area left for the day, and I proceeded to search that area as well. Not two minutes later, the bracelet was in my hand. LC and I arranged to meet at a local coffee shop so I could return his bracelet. It was a time of joy for him to see what he wasn't sure he would ever see again. So the story of this seemingly insignificant copper bracelet continues.
If you lose your ring or other metal item of value, don't buy a metal detector or rent a metal detector, but call one of the members of this directory. Look at the different metal detecting Ring Finder blogs and read their success stories, then call them ASAP, and they will work hard for you to find what you thought might never be found again.
I search, Cabrillo Beach, Hermosa Beach, Huntington Beach, Long Beach, Malibu, Manhattan Beach, Newport Beach, Redondo Beach, Santa Monica, Seal Beach, Torrance Beach, Venice Beach, and all parks, yards, gardens, and ponds (to 5 foot depths) in Orange County and Los Angeles County.
4 Responses to "Copper Bracelet lost at Redondo Beach, CA…Found!"