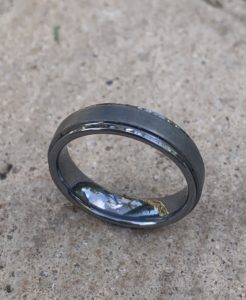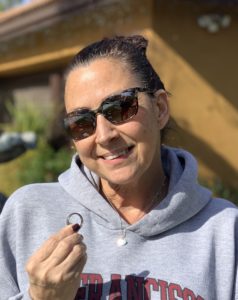 Mobile Metal Detector Service.. Available Now..Call  949-500-2136
****Christine's husband called me shortly after feeling his ring slip off his finger in his front yard. He had found my contact information online while searching for a place to purchase or rent a metal detector.
I told him I was available to help him find his ring if someone could meet me at the location.. 
His wife Christine was able to meet me an hour later. She showed me a location where her husband had shook his hand while taking the trash out to curb. 
She said it was a dark colored platinum wedding band. After about 30 minutes scanning the rose garden and the lawn I got a signal that turned out to be the missing wedding band in the grass. Like many other searches this was not a platinum ring, it was a tungsten carbide ring. Sometimes people tell you it's silver and it turns out to be platinum or white gold. I always search in all metal mode when possible. You can't depend on discrimination settings on the metal detector.
Not all searches are this easy, this ring was completely out of sight and couldn't have been found without a metal detector. 
"I WILL TRY ANYWHERE'