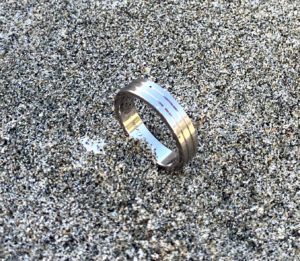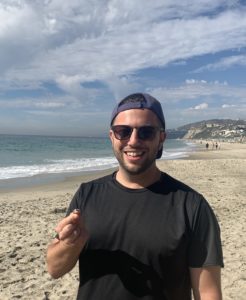 Mobile Metal Detecting Service by Stan Ross member of TheRingFinders  … Available Now … 949-500-2136
*** Nicole and Sean had spent the day at Strand Beach, Dana Point, CA. With a large group of friends. Midway through the day Sean notice his gold wedding band was missing. They believed it may have come off his finger while playing volleyball, but it may have slipped off while body surfing.
While everyone was searching through the dry sand a bystander told Nicole about TheRingFinders metal detecting service. Nicole called me explaining the situation. I asked if someone could be there to show me the location. I could definitely eliminate the volleyball playing area. If it wasn't there it would require a second trip at the next low tide to check the place where Sean was bodysurfing .
It's less than 15 miles drive but the walkway to the beach is a good hike. We met an hour later as some of the group were leaving. Sean showed me the volleyball playing location and I told him it might take more than an hour to scan the thoroughly. In the past I've spent as much as three hours searching lost rings on volleyball courts.
I randomly picked one side of the court to start. In less than 10 feet in a straight line I got the magic signal that turned out to be Sean's ring. Totally an unconscious streak of good luck. The only clue I had to work with was he knew he had it when he got to the beach and three hours later the ring was not on his finger. 
The best part was seeing the smiles on everybody's faces. Both Nicol and Sean were genuinely grateful, thanking me several times as we all walked off the beach together. It never gets old seeing people get sentimental keepsakes found that they had believed was impossible to find.