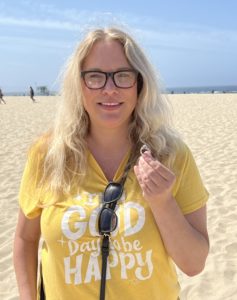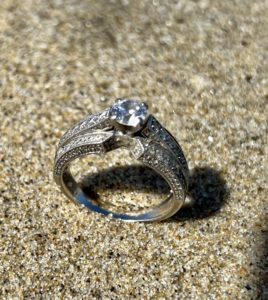 Metal Detecting Service .. Call Stan the Metal Detector Man ..  949-500-2136
*** Julian and her husband had been vacationing in Hermosa Beach, CA. The fourth day of their stay at a hotel on the beachfront, they were throwing a football in ankle deep water in the surf when Julian's wedding ring slipped off her finger. The ring disappeared immediately into the wet sand. The three days of there vacation were not good. 
The morning that they were leaving to drive back to their home in Arizona, Julian called me asking for help. She didn't really feel it was possible to recover a ring that had been washing around in the surf for three days. I told her if they could stay long enough for me to get a general location, we have a good chance to find the ring. 
I met them an hour later as they were loading their vehicle with their luggage. They walked me out to the ocean , directly in front of the hotel, pointing out the location. It was low tide which was an advantage as I was thinking I might have to wait a half a day for the best low tide. I didn't want to get their hopes up, but I had a positive feeling that I could find the ring, even if I had to try for a couple days.
I went back to my car to get my equipment as they left me to proceed with the search. After about five 40 feet grid passes. I only received one good signal through my headphones. That was all I needed. Julian's beautiful white gold diamond wedding ring in my scoop. Three days after being through five or six high tides with a strong surf the ring was approximately 6" deep but still shallow enough to give me a decent signal in my water proof metal detector.
I called them with the good news, thinking they were on the road but close enough that they could pick up the ring. ( I could mail it ) After recovering rings for awhile, I understand that the owners never feel comfortable until the ring is back on their finger. I keep hearing how much they missed not having the ring where it had been for so many years.
If you need help finding a piece of jewelry call .. Stan the Metal Detector Man .. Available to help you now … 949-500-2136 .. I WILL TRY ANYWHERE