This time of year in Ohio as the seasons change and the leaves start to turn, people are doing last minute tree trimming, yard work and clearing of brush. Sometimes with the cooler temperatures the rings fit a little looser.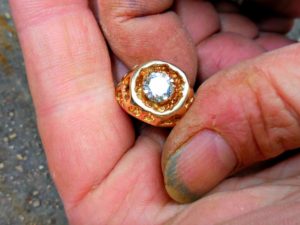 This was the case with a gentleman from Allen County. He contacted me Saturday night (10/17/20) to tell me that while he was cutting some limbs out of some pine trees and pulling saplings the night before,he and a friend were feeling rushed as darkness approached. Apparently with the cooler temperatures his ring had slipped off. They looked for it for a short time and the gentleman returned the next day with two friends to continue the search. By that point the yard had been mowed and even with the freshly cut grass they could not find the ring .  after dropping another ring in the grass to see if he could find that ring he noticed how quickly it was covered. He quickly picked the second ring back up but this also concerned him. If the grass is hiding the ring how do I find it?  He and his friends checked the limbs that they had cut out of the pine tree as well as the brush they had picked up before cutting it down into smaller pieces and putting it in a dumpster. They then headed back to the respective homes while the gentleman reviewed his possible options.  Do I give up on the ring?… Do I try to purchase a metal detector and see if I can find it myself?  He started to check Google and that's when he ran across me on TheRingfinders.com which is also about the same time his friend contacted him with the same information. He grabbed his phone and gave me a call to see if I could possibly help him with his dilemma.
When I answered the phone he had explained to me what the situation was, what had happened and what he had lost. Normally, he removes his rings when he does this sort of work but he did not on this occasion and was not very happy with himself that such a thing had been allowed to happen. He mentioned that he was a big believer in karma and thought that since he as well as his friend had found my information at basically the same time that it was karma telling him to give me a try.

After many questions for him about the area it was lost in, the conditions it was lost under, what the ring looked like including the composition of the Ring and any other identifying marks I told him I thought I could help. He was of course very happy to hear this. He was very accommodating to make his schedule meet up with mine and we made plans to meet up the next afternoon at a restaurant in his area to follow him to the location where the ring had been lost.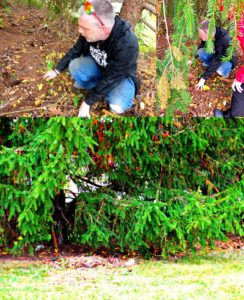 My wife and I made the trip the next afternoon to meet up with the gentleman who was an absolute pleasure to meet. He had been very thoughtful in writing down directions to the location even though we were going to follow him just in case we got lost. He had even called me when we were on our way to let us know it was raining in the area we were traveling to period he was concerned that that may affect my equipment and if we needed to we could back it up an hour or so for the rain to pass. I had told him we were on the road and would see him soon. The rain was no worry since I was bringing a waterproof machine.
After meeting at the restaurant and following him to the location where the ring was lost I had him explain the conditions again in which the ring was lost under and show me the area that he believed it to be in.  As I grabbed my detector I dumped my pouch into a bucket to show him there was nothing in the pouch. I have recently begun doing this as much for my protection as the person I am searching for their lost item. After showing the pouch was empty I told him that once I was done I would again empty the pouch so that he could see anything that was in it.
Turning on the detector I headed for the trees. I felt I should clear that area first and then start covering the grass between the trees and the pavement where they had been working. Just a few short feet into the trees the brush became fairly thick. I explained to him I was going to remove any surface signals that may mask the item. Next thing you know the brush is thick enough I am on my hands and knees and a detector is almost useless at this point. I'm crawling around on twigs, pine needles and pine cones picking up surface trash and other metal targets on the surface with a pin pointer to clear the area. I found many trash targets as well as some glass bottles. I also found a Lincoln penny while crawling around on the ground . Then I got a signal and brushed the pine cones out of the way and saw the bottom of a gold band. I knew right away this must be the ring . As I rolled it over in my hand to see the stone there was no doubt it was the item I was looking for. The item I had been looking for was a gold band with a 1.25 to 1.5 carat diamond.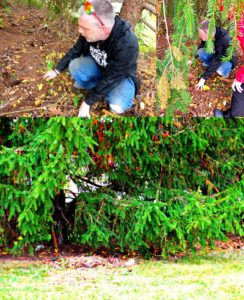 After about 30 minutes, my pouch was full. I started out of the trees to try and get rid of some of the trash. I handed him two bottles that he promptly took over to the dumpster to dispose of while I started dumping my pouch into the bucket. Showing him all the trash that had been found he walked over to his truck to get a trash bag to put it in to properly dispose of it. When he returned from his truck I held out my hand to show him the Lincoln penny that I had found in the trees. He glanced at it and said that it was just a penny and I could keep it if I wanted. I told him I had ran across the penny and stuck it in my pocket because that's not what I was there to find. I was there to find a ring

  He agreed that yes, he was hoping I could return his ring to him. I sat the penny down on the back of the truck and as he started to pick up the trash again, I mentioned to him that I had also found this laying on the ground in the trees and held out my hand to present him with his lost ring. He was both very surprised and very happy! He then asked me if he could possibly have the penny that I had showed him due to the fact that it could be a Good luck Penny, since I found his ring right after that . I of course promptly complied and told him with a smile yes! You can have the penny as well.
I asked him to tell me a bit about the ring, if he would. He mentioned that he had bought the diamond around 40 years ago and shortly after that bought the setting and band for it. He had managed to keep it all these years until that cool October Friday night and less than 48 hours after being lost we were able to return it promptly back to its rightful owner.
I can understand why he was hoping to get his ring returned. It is definitely a very nice looking ring and one to be proud of for a return . As a side note, due to the situation that we are in currently with Covid-19 even though the picture does not show it due to the masks we were both smiling and very happy in this picture. I was happy to be a part of this great return and the gentleman was certainly very thankful and happy to have his ring back in such a short amount of time.
Covid-19 couldn't kill this great return!  Good people do good things to help others… Karma does shine through!
After getting some photos we said our goodbyes and wished each other the best. Once I got home I received this message from him.