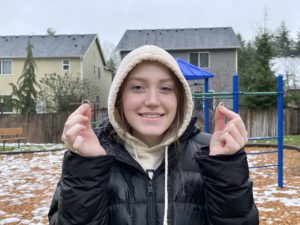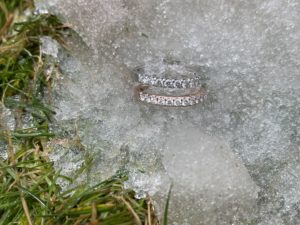 SeattleRingHunter Lost Item Recovery Specialist LAND & SCUBA Call ASAP 206-618-8194
Watch this recovery video of Cassidy lost gold ring.
Like, share and subscribe…
Cassidy's mother contacted me asking for help in searching for her daughter's lost rings in the snow. Being that I was a bit delayed and that they already had rented a metal detector I happily provided a lot of tips over the phone on how to search their small neighborhood play park. Cassidy's dad did all he could do with the rented machine through the cold snow but was not able to locate either of his daughter's lost rings.
When her grandmother passed away these rings were handed down to Cassidy. It was obvious these heirloom rings hold a deep sentimental value by the whole family. She shared that she basically ran out into the fresh snow and threw one snowball bare handed then walked a few feet over to grab some more snow when she realize both rings were missing one from each hand! It's quite possible she may have shook her hands a few times after that first throw to clear the cold snow from her bare fingers. These actions along with cold weather are notorious conditions for rings to get flung off the hand. Where rings land quite often can be quite a mystery and very difficult to locate without the proper recovery equipment and experience.  
It was a few days before I could arrive and the family did all they could with the rented metal detector with no success. It was now day number four and I'm quite sure each day up to this point the family continued to look nonstop. At this point the snow had pretty much melted away with a few patches here and there. Cassidy was rewarded for her efforts and did spot one of her lost rings a brilliant platinum diamond wedding band. It was found in the park grass where a snow man was previously. She had found it just a few hours before my arrival however the other ring a rose gold diamond wedding band was still missing in action. At this point the rented metal detector had been returned and the family was at a loss as to where the other ring hiding in the park.
After a short bit of time working the grass I got a hot signal that I had been looking for. Under a patch of snow I pulled Cassidy's second ring, a rose gold diamond wedding band, from the ground. Undamaged and ready to be placed back safely on her finger. Cassidy and her whole family were relieved and very appreciative of the support they found through my services brought to them through TheRingFinders.com directory. 
If you lost an item of value reach out to me directly for a quick chat so I can formulate a recovery plan for you!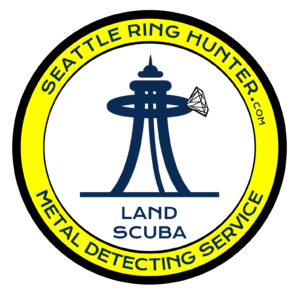 https://TheRingFinders.com/Jeff.Morgan/
http://www.SeattleRingHunter.com
CALL 206-618-8194
#SeattleRingHunter