A grand wedding planned and the congratulations had everyone in great spirits. Then Fido put a damper on things and it wasn't by eating the wedding ring or biting the groom. It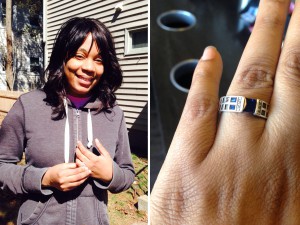 seems Fido wanted to join in on all the fun. When the stafford shire terrier was brought out to join the party she got so excited she made a be line for her mom and Bailey was wearing her very nice clothes. In order to stop the pooch from knocking her down Bailey threw up here hands to brace for impact. Well the rest is history, but I'll let you hear the rest from Baileys point of view. Thanks for stopping by!
Bailey's Testimonial:
I am so grateful to Guy and The Ring Finders! They made a pretty crappy week end on a great note.
I lost my engagement ring playing in the yard with my dog and after panicking, my fiancée, myself, some of the wedding party and three neighbors searched in our yard. After seven hours and a metal detector rental and not enough luck, we turned to the internet and found Guy here on the Ring finders.
Skeptical at first, because I didn't think there was even anyone in the world who would do this, let alone on a reward basis and not for a really high fee, I gave Guy a call and after some brief chatting and scheduling, I got to meet him and he got to work. After his first initial run through of the yard he assured me it was close that he could find my ring. A day or so later he came back when I was available for more time he gave the yard an extremely through sweep, and then the neighboring yard a through sweep as well.
When the ring didn't turn up in my yard, my first though was "we'll never find is" and Guy assured me again we would and I wouldn't be writing this if he hadn't, and I am so grateful that he did. My ring had made it over the fence into the yard next door, and was safely recovered from under a pile of leaves.
Guy is a funny, easy going person and his genuinely nice persona kept the whole experience enjoyable despite the circumstances. That fact that he does this just for the love of helping people, and that he helped me, makes me glad such a site like this, and people like him that do this, exist.
Thank you Guy for doing this, and thank you theringfinders for making a place that people like me can find people like Guy.