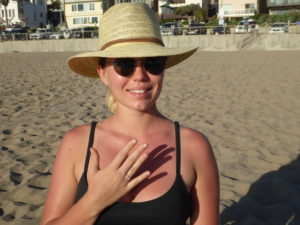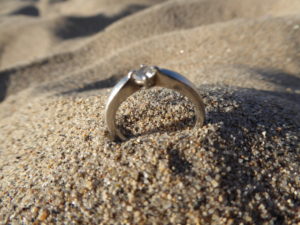 Valerie Contacted me yesterday about the loss of her wedding ring. I was available, and told her I would be there in 30 minutes. She had taken the ring off so she could go into the water, and when trying to place it in her phone case, it fell into the sand. When she had traveled a little while in the sand towards the water she looked again, and her ring was gone.She started to look in the most obvious place in the sand with her fingers, but the expanse of sand was so great it looked like a hopeless cause. She found me on TheRingFinders.com web site, and gave me a call.
When I got there, I asked my questions trying to narrow down the search area, but when Valerie explained to me what happened, I realized the area was rather large. I began my search where she had begun hers thinking she had the best idea of where the ring might have fallen into the sand. No luck with that, so I kept expanding out from that area all the way back to the area she had removed her ring, about 2 1/2 hours; nothing but a bunch of bottle caps, and a few coins. I then decided to do a cross grid, knowing that sometimes a ring may sound off in a different passing of the detector's coil over the area. We both knew the ring was there from her experience, so the cross grid was the only answer. About 20 minutes later I got a solid hit in the earphones, and had her ring in the scoop. It was so good to see Varerie's excitement when I held up her ring as she ran over to receive it. It is such a joy to restore the joy in others.
Persistence is the key in some of these searches, so don't forget to make sure the ground is covered completely when doing a search.
If you lose your ring or other metal item of value, don't buy a metal detector or rent a metal detector, but call one of the members of this directory. Look at the different metal detecting Ring Finder blogs and read their success stories, then call them ASAP, and they will work hard for you to find what you thought might never be found again.
I search, Cabrillo Beach, Hermosa Beach, Huntington Beach, Long Beach, Malibu, Manhattan Beach, Newport Beach, Redondo Beach, Santa Monica, Seal Beach, Torrance Beach, Venice Beach, and all parks, yards, gardens, and ponds (to 5 foot depths) in Orange County and Los Angeles County.