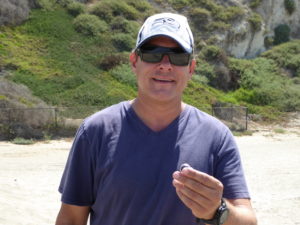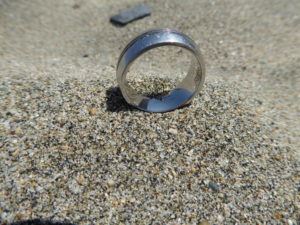 I had spent the morning surfing yesterday at a local beach, and had just come out of the water when I checked my phone to see that I had received a text from Keith. He was wondering if I could help him find his wedding band that he had lost the previous day. I told him that I had to go and drop off my board and gather my equipment, and that I would meet him at the spot in an hour.
When I arrived Keith was waiting. He explained that he had taken the ring off to go into the water, and have his child come in closer to shore, because they had paddled out too far for his liking. He put the ring on the beach chair on a towel, but when he got back the towel was moved, and the ring was gone. They looked but were unable to find it. One of his children mentioned that he should buy a metal detector to search for it, but Keith figured that he had seen a lot of guys detecting the beaches, and thought that there might be someone who might be able to help him, so he turned to the Internet, and did a search where he was able to locate my number. That was a good thing because the area he was looking is so highly mineralized, it would have caused any inexpensive detector to false constantly.
I began my search, and then readjusted my detector to accommodate for the conditions, put the coil back down just bit lower in the search area when I got a good report from the machine. I put my scoop in, and there it was. I pulled it out to Keith's surprise. It truly made his day that someone was so willing to come at such short notice, and it made my day to see his joy restored.
If you lose your ring or other metal item of value, don't buy a metal detector or rent a metal detector, but call one of the members of this directory. Look at the different metal detecting Ring Finder blogs and read their success stories, then call them ASAP, and they will work hard for you to find what you thought might never be found again.
I search, Cabrillo Beach, Hermosa Beach, Huntington Beach, Long Beach, Malibu, Manhattan Beach, Newport Beach, Redondo Beach, Santa Monica, Seal Beach, Torrance Beach, Venice Beach, and all parks, yards, gardens, and ponds (to 5 foot depths) in Orange County and Los Angeles County.