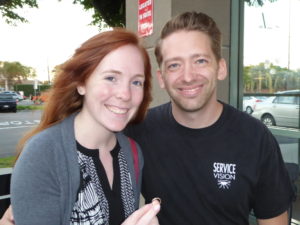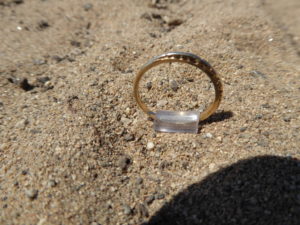 I was out and about yesterday when I received a call about 12:00 PM from Kyle about the loss of a family heirloom ring that his new wife of 4 days, Katie-Joy was wearing. They had been at the reception in a Malibu restaurant when the loose fitting ring had come off of her finger on the private beach the restaurant has for their guests. The ring was her late grandmother's, that is loaned out in a family tradition to the young ladies of the family when they get married as a thing that is old and borrowed. I asked Kyle if he knew where the loss occurred, and he most definitively said yes. When I asked him how he knew so well, he explained that before he knew the ring was missing he had spotted it on the ground, picked it up, and not thinking much of it at the time, being a very small and fragile looking ring , tossed it back in the sand. Not long after, he found out about the ring, and by that time it was gone below the sand.
I asked if Kyle could meet me at the restaurant, and he said he could not get there until after he got off work at 6:00 PM. I wasn't far from the site, so I asked him to contact the restaurant to see if they would allow me to come for the search earlier, because I was in the area. I hadn't heard back from him, but drove to the restaurant, and called him back, when he told me he had just gotten off the phone with the activities director there who gave him the green light for me to come. I grabbed my equipment, and walked over to the director's surprise that I had arrived so quickly. She showed me the area which wasn't too big, and withing 15 minutes I found the ring. I knew it was the one because Kyle had informed me that there was a plastic spacer that was attached to the ring. After finding it, every restaurant staff member I met inquired if I had made the recovery, and rejoiced at the good news; what fun.
I sent a picture to Kyle of the ring, and he was pretty sure it was the one. he in turn passed on the picture to his wife who identified the ring. We made arrangements to meet last night at a coffee shop between us where I was able to give the ring back to Katie-Joy who was extremely happy to see it again. This ring will now be available to future brides in their family, as a thing old and borrowed, a continuing family tradition. Lots of fun.
Katie-Joy sent me the following to express how she felt about this recovery:
Steve,
I just wanted to take a second to email you and thank you again for finding my grandmother's ring.  I wanted to write a review for you, but I know you mentioned that email was probably the best way to do this, so I will try my best to write one that you can hopefully use on your website or as a reference for people.
"My husband and I got married on August 6, 2016 at Duke's in Malibu.  During the ceremony and pictures I was wearing my deceased grandmother's wedding band and engagement ring, as this was tradition in my family with all of the girls to wear as the "something borrowed".  The ring was small on all my fingers except my ring finger, which it was too big, so I put a spacer on.  Unfortunately, during picture taking somehow the spacer and ring still fell off my finger into the sand on the small beach we were taking photos on.  Needless to say we could not find the ring.  My husband and I returned to look for it more thoroughly, but no luck.  My husband decided to hire Steve, knowing how upset I was.  We were both working, so Steve only had the description of general area and what the ring looked like to go off of.  Within an hour of searching, Steve found my grandmother's ring.  I am so unbelievably happy to have this small piece of history restored to the family."
I hope this helps or you can use it in the future!  Thank you again so much for everything!
Katie-Joy
If you lose your ring or other metal item of value, don't buy a metal detector or rent a metal detector, but call one of the members of this directory. Look at the different metal detecting Ring Finder blogs and read their success stories, then call them ASAP, and they will work hard for you to find what you thought might never be found again.
I search, Cabrillo Beach, Hermosa Beach, Huntington Beach, Long Beach, Malibu, Manhattan Beach, Newport Beach, Redondo Beach, Santa Monica, Seal Beach, Torrance Beach, Venice Beach, and all parks, yards, gardens, and ponds (to 5 foot depths) in Orange County and Los Angeles County.