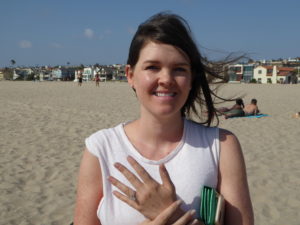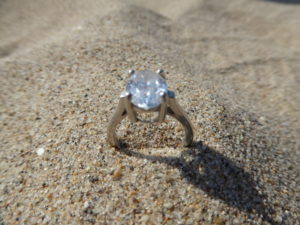 Yesterday, not long after finding the ring for Keith, I received a call from DJ who said his wife had lost her engagement ring at the beach just two hours earlier. I asked if they were still there, he said they were not, but some of his wife's friends were still at the spot. I then asked if they could meet me there, and he said his wife would go and make sure she could show me where the loss occurred.
I was able to get there in about an hour, and walked out to meet Katie, DJ's wife. She showed me to the area where the ring was lost, and as we got closer, I could see lines in the sand over a rather large area where they had performed a continuous grid search. I could tell they had been very meticulous in their search, but to no avail. I began to question her about the loss, and as she explained everything to me, I could tell that they had searched the wrong area. I began my search in the spot that I figured the loss occurred from my inquisition, and within about 5 minutes I was able to pull a 2 1/2 carat diamond solitaire engagement ring in a platinum setting out of my scoop to Katie's shock, and the shouts of success from the friends and other beach goers that knew of the situation.
What a joy to bring joy to those in despair over the loss of something so meaningful in their lives, as you can see from Katie's smile, and the communication I had with DJ after the recovery. The other important fact in this story is that Katie and DJ will be celebrating their 5th wedding anniversary in a week. What a great job!
If you lose your ring or other metal item of value, don't buy a metal detector or rent a metal detector, but call one of the members of this directory. Look at the different metal detecting Ring Finder blogs and read their success stories, then call them ASAP, and they will work hard for you to find what you thought might never be found again.
I search, Cabrillo Beach, Hermosa Beach, Huntington Beach, Long Beach, Malibu, Manhattan Beach, Newport Beach, Redondo Beach, Santa Monica, Seal Beach, Torrance Beach, Venice Beach, and all parks, yards, gardens, and ponds (to 5 foot depths) in Orange County and Los Angeles County.