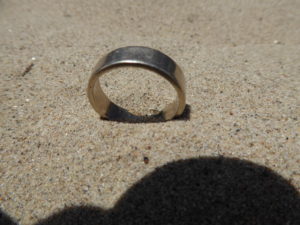 We know each ring has its story, and each one so very important to its owner, and when it is lost that story ends, that is why we search, to renew the story. I received a call from Bill yesterday concerning his wedding ring he had lost just a couple of hours earlier in the sand. He had taken the ring off to apply sunscreen, and placed it on his shoe so it would not be lost, but was then asked by a worker in the area to move so they could do some work. Without thinking about his ring, he picked up his shoes, and got out of the way. As soon as he got to the new spot, he realized the mistake, and started to search for it. The sand at this beach is very fine, and the ring was swallowed up instantly. We agreed to meet about 1 1/2 hours later, as he had already gone home, and my wife had just made me a meal. He also asked if a sifter would help, and I told him nothing would hurt, but trying to find a ring with a sifter could lead to a significant amount of frustration, and despair.
When I got to the beach with Bill, he showed me the area, and I could see that it was a pretty good size. He also had a sifter in a bag, but said that when he got there, he realized it would be a job to sift the entire area, so he waited for me. Well, I got right to work, and began my grid from the widest point inward. After a couple of passes and a few coins, I got a good solid nonferrous hit in my headphones, and dug. Up comes my scoop with a bright and shiny ring in it, I gave out a shout, and almost did a little dance. I turned and showed Bill, and could see a wave of emotion come over him. When he was holding the newly recovered ring, he shared its story with me, and I understood his reaction.
He had been with his future wife for 7 years before they were to marry, and when he decided to ask her, he decided to approach her father first. Apparently his future Father in Law thought a lot of him, and offered to make his wedding ring, as he was an artisan in making jewelry. At this time Bill had been married for 11 years, and his Father in Law, passed away just one month ago. I could tell that this became a double loss to Bill, and it grieved him sorely to have lost this precious reminder of his bride's father. I was certainly glad to have made his day.
If you lose your ring or other metal item of value, don't buy a metal detector or rent a metal detector, but call one of the members of this directory. Look at the different metal detecting Ring Finder blogs and read their success stories, then call them ASAP, and they will work hard for you to find what you thought might never be found again.
I search, Cabrillo Beach, Hermosa Beach, Huntington Beach, Long Beach, Malibu, Manhattan Beach, Newport Beach, Redondo Beach, Santa Monica, Seal Beach, Torrance Beach, Venice Beach, and all parks, yards, gardens, and ponds (to 5 foot depths) in Orange County and Los Angeles County.