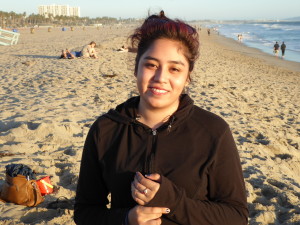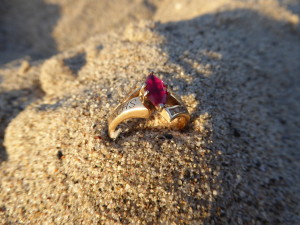 Amy called me yesterday evening wondering if I could help her find her ring at the beach. When she explained she had just lost it about an hour before, I told her I would get there as soon as possible if she was willing to wait for me. The main reason for going immediately, is because time is the enemy in finding lost items at the beach. I got my equipment together, and was on my way.
When I got to the area Amy met me and took me to the spot she felt the ring came off of her hand. It was a ring that she had received two years earlier for her graduation. She explained that she had flicked her hand in a downward fashion, and the ring just flew off into the sand. She was right at the top of the slope down to the beach. The sand was soft, and would have swallowed the ring instantly. I got to work, and began my grid, making sure to overlap each pass, so that every inch of the sand was covered. I went down the slope, and came back up when I heard what I wanted to hear, a nice solid low tone. I put in my scoop, and brought out this beautiful golden class ring with a ruby red stone, and diamonds flanking the stone. I reached in and grabbed it blowing the sand off of it as I raised it to show Amy. She and her friends got very excited to see it found. I just love to see the joy that is produced by finding something precious to people that they thought was lost forever. What a great smile to see. Another wonderful day.
If you lose your ring or other metal item of value, don't buy a metal detector or rent a metal detector, but call one of the members of this directory. Look at the different metal detecting Ring Finder blogs and read their success stories, then call them ASAP, and they will work hard for you to find what you thought might never be found again.
I search, Cabrillo Beach, Hermosa Beach, Huntington Beach, Long Beach, Malibu, Manhattan Beach, Newport Beach, Redondo Beach, Santa Monica, Seal Beach, Torrance Beach, Venice Beach, and all parks, yards, gardens, and ponds (to 5 foot depths) in Orange County and Los Angeles County.
One Response to "Class Ring Lost at Santa Monica Beach, CA…Found."